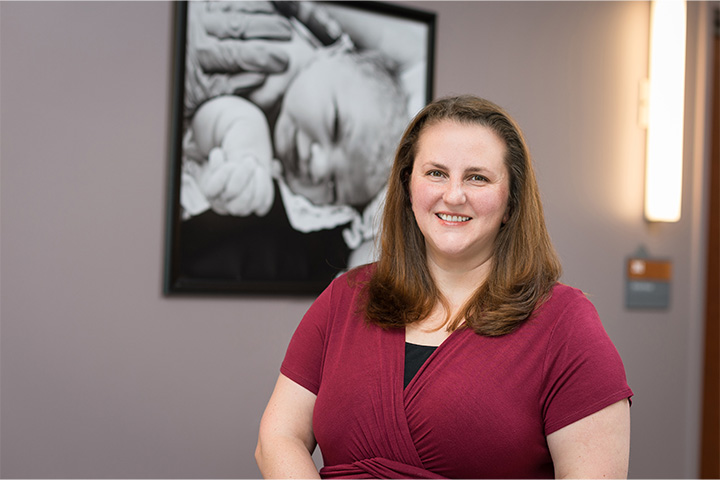 "What Inspired Me" showcases NH+C staff and what inspired them to choose their career. Each profile tells the personal story behind the professional expertise.
Jessica Bohren, APRN, CNM is a Certified Nurse Midwife in the Women's Health Center and Birth Center.
From the time I was little, I wanted to go into medicine. My high school had a program where we could spend time at a hospital trying out different jobs. My friend's dad was a well-known, popular OB there who let me follow him for a day.
I spent most of the time with the nurse, sitting with a laboring patient; the doctor just came in at the end and caught the baby. It hit me that it was the nurse who was at the bedside the whole time. Still, I absolutely loved what I saw, and wanted to be an OB.
I started out pre-med at University of Michigan, majoring in women's studies. In my woman's health class, a midwife came as a guest lecturer and talked about her experiences and the philosophy of midwifery – it's just very different from traditional medicine. Then, I got the chance to spend the summer with a practice of midwives near my home; I shadowed them all summer. (They sent me with the doctor one day, and I asked to go back with the midwives.)
I love being at the bedside. That was a big piece about why I wanted to be a midwife: I get to take care of patients, at the bedside, through the full experience of labor and delivery, getting to know them and what matters to them, being able to do education.
My advice for young people thinking about medicine: Volunteer. It gives you a feel for what you like, what you don't, and what's important to you. And find a mentor – someone you can follow and ask questions.
As it turns out, the nurse I sat with during my high school day with the well-known OB – that's the nurse who trained me when I became a nurse.
She remembered me. And I definitely remembered her.
Learn about midwife care at NH+C.