AHA BLS CPR and HeartSaver Courses
Image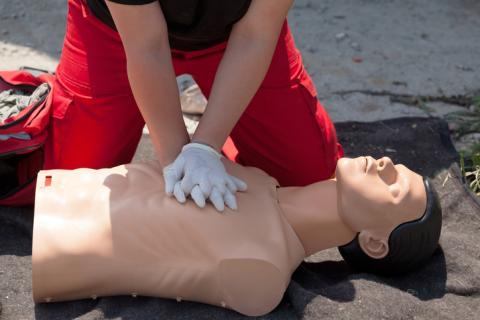 Basic Life Support (BLS) CPR for the Healthcare Provider (Classroom): This American Heart Association CPR Basic Life Support course results in BLS certification for the Healthcare Professional level.   
HeartSaver CPR AED and HeartSaver First Aid (Classroom): These American Heart Association courses result in certification in CPR/AED Use and/or First Aid. These courses are designed for the non-healthcare professional to learn the life-saving skills of CPR, AED use and First Aid for adults, children and infants. In classroom HeartSaver courses are scheduled on a request-only basis. Minimum registration requirements apply. Contact us directly for scheduling at smithj@northfieldhospital.org  
BLS HeartCode, Heartsaver AED CPR, Heartsaver First Aid Blended eLearning Courses: We are now offering Blended eLearning Courses for BLS HeartCode, Heartsaver CPR AED and Heartsaver First Aid. Complete your training in two easy steps:
Step 1: Complete the online training course offered by AHA.
Step 2: Schedule your hands-on skills practice and testing with our experienced instructors! Skills sessions are scheduled on an individual basis with flexible dates and times. Please see use the Information Request button above for  more information!  
Upcoming May 2022 - May 2023 BLS Courses:
June 13th, 2022, 8:00AM-12:00PM
September 20th, 2022, 6:00PM-10:00PM
October 8th, 2022, 6:00PM-10:00PM
January 7th, 2023, 8:00AM-12:00PM
February 15th, 2023, 6:00PM-10:00PM
February 17th, 2023, 6:00PM-10:00PM
March 10th, 2023, 6:00PM-10:00PM
2022-2023 Fee Schedule:
BLS CPR Initial Healthcare Provider (Classroom): $70.00 BLS
HeartCode (Hybrid): Online Course $31.00 plus Skills Session $70.00  
Heartsaver CPR AED (Classroom): $65.00
Heartsaver First Aid (Classroom): $65.00 
Heartsaver First Aid and CPR AED (Classroom): $120.00  
Heartsaver CPR AED (Hybrid): Online Course $15.00 plus Skills Session $45.00
Heartsaver First Aid (Hybrid): Online Course $15.00 plus Skills Session $45.00
HeartSaver CPR AED First Aid (Hybrid): Online Course $30.00 plus Skills Session $70.00
HeartSaver Pediatric CPR AED First Aid (Hybrid): Online Course $20.00 plus Skills Session $60.00