Get back to living again - Wound Healing
Having a wound that won't heal can keep you from doing the things that you enjoy, and it's hard on patients and caregivers to treat difficult wounds at home. We are here to help.
We provide you with specialized treatment to help heal your chronic or difficult-to-heal wounds and ulcers– wounds that typically don't heal in 2-4 weeks. Healing – not simply treating – chronic wounds let you get back to the life you enjoy.
Wound care is important because chronic wounds can have serious consequences. They affect about 6.7 million people in the U.S. – a common complication of diabetes and obesity (and less commonly, radiation therapy). Non-healing wounds stem from inadequate circulation, poorly functioning veins and immobility. They require specialized care because underlying, complex conditions prevent the wound from going through the expected healing stages. The longer a chronic wound goes untreated, the greater your risk of infection, amputation and other complications.
Types of Wound Healing Offered
Image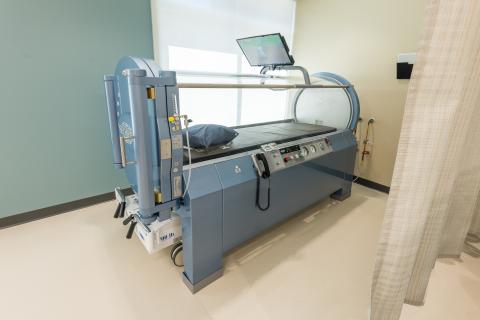 Wound Care
Many chronic wounds can be healed through a series of specialized treatments that may include debridement, specialty dressings, topical wound therapy, growth-factor therapy, tissue therapy, patient education and referral, if needed, to address other health needs.
Hyperbaric Oxygen Therapy
In addition to advanced wound care, the center will also provide hyperbaric oxygen therapy for those patients who qualify.  This therapy delivers 100% oxygen to the patient inside a pressurized chamber, enabling the lungs to take in more oxygen. The bloodstream carries the extra oxygen to the injured area to fight bacteria and stimulate growth factors and stem cells that promote healing.
Specialized Approach to Healing
When wounds persist, effective treatment requires a specialized, comprehensive approach from a multidisciplinary team with specialized training in wound care and hyperbaric medicine. The multidisciplinary team includes providers, nurses and technicians, and coordinated care with other services, if needed, including physical therapy, occupational therapy, laboratory evaluation, nutritional management, pain management, diabetes management, and other areas to address total patient health. We also have experienced staff to assist with appointments, medical records, and health insurance processing.
We offer specialized treatments including hyperbaric oxygen therapy, debridement, topical wound therapy, growth-factor therapy, tissue therapy, dressing selection, and patient education. Each patient receives a personalized wound treatment program.
 
Specialized Training
Providers and staff have specialized training to practice the most current, evidence-based methods for treating difficult-to-heal wounds. We utilize the latest approaches to wound healing and remain current in new scientific advances in wound care. NH+C is partnering with Healogics®, the leader in advanced wound care for nearly 20 years and the world's largest wound care management company.
 
Specialized care, close to home
Treatment requires a series of appointments over several weeks – typically, weekly appointments for 10-14 weeks until the wound heals. Specialized care close to home makes wound care more accessible and convenient for patients in the communities we serve.
Types of Wounds We Can Treat
Arterial ulcers

Ischemic ulcers

Osteomyelitis infection in bone

Radiation related wounds
Burns

Neuropathic ulcers

Other non-healing wounds

Venous ulcers
Diabetic foot ulcer

Non healing surgery wounds

Pressure ulcers

Wounds that haven't healed in 2 – 4 weeks
Take a tour of the Wound Healing Center
Watch an overview of Wound Healing Services
Frequently Asked Questions
Is Wound Healing right for you?
Ask your primary care provider, home health nurse, diabetes specialist, endocrinologist, oncologist, or trusted member of your healthcare team. You can also call the Wound Healing Center and we will help you assess your need.
What is the success rate for wound healing?
Healogics®, our partner in wound healing, achieves excellent clinical outcomes including, a 93% healing rate within 28 median days-to-heal, high rates of saving limbs from amputation, and extremely high patient satisfaction.
What causes non-healing wounds?
Non-healing wounds can result from a number of factors, including diabetes, inadequate circulation, poorly functioning veins, trauma, vascular disease, radiation wounds or burns, and immobility (which can lead to pressure ulcers, commonly known as "bed sores"). 
What can I expect at appointments?
During the first appointment, you will undergo a thorough examination to identify the type of wound you have, the size of the wound and the underlying problems causing the wound. We will also review your medical history, assess your overall health and your ability to comply with needed therapies and perform any lab work needed. Based on the evaluation, a customized treatment plan is developed to optimize the therapies best suited to address your needs. Please be sure to bring your medical records, insurance information, a list of current medications, and a list of your allergies. You should expect it to take several hours.
During follow up appointments, you will receive specialized treatments based on your treatment plan. With each follow up appointment, we will assess the progress of your wound healing and provide treatment. Treatments may include debridement, change dressings, specialty dressings, topical wound therapy, growth-factor therapy, tissue therapy, patient education and referral, if needed, to address other health needs. Follow up appointments are typically for one hour once a week for 10 – 14 weeks or until wound heals.
Do I need a referral?
Will I have to change my primary care provider or specialist?
No. In fact, we prefer to work with your primary care provider or specialist during the treatments. We will keep your provider informed with frequent progress reports. While you receive treatment for your wound, you will continue to receive all of your routine care from your primary care provider.
Will I learn how to care for my wound at home?
You, and any care givers, will be fully instructed on how to do your own wound care at home between visits, as well as how to protect your wound from further injury. It is very important to remember that you are the most important part of your healing process. Keeping appointments and following directions are critical to attaining a positive healing outcome.
What can I expect from hyperbaric oxygen therapy appointments?
Roughly 20% of patients with a chronic wound will need hyperbaric oxygen therapy. During the treatments, the patient breathes 100 percent oxygen inside a pressurized chamber, quickly increasing the concentration of oxygen in the bloodstream, where it is delivered to a patient's wound site for faster healing. The clear chambers are equipped with televisions and comfortable bedding, so patients are free to watch their favorite television show or movie, or even sleep. In a typical course of treatment, the patient spends about two hours per day in the chamber, five days per week over a four-to-six-week period.
How does hyperbaric oxygen therapy work?
Hyperbaric oxygen therapy is used as a specialized treatment for problematic, non-healing wounds that meet specific criteria. During the treatments, the patient breathes 100 percent oxygen inside a pressurized chamber, quickly increasing the concentration of oxygen in the bloodstream, where it is delivered to a patient's wound site for faster healing. This therapy can help reduce swelling, fight infection, and build new blood vessels, ultimately producing healthy tissue. It is also effective in fighting certain types of infections, improving circulation, stimulating growth of new blood vessels, and in treating crush injuries, osteomyelitis, compromised skin grafts and flaps, brown recluse spider bites, and diabetic wounds of the lower extremities.
Is hyperbaric oxygen therapy safe?
Yes. Hyperbaric oxygen therapy is a safe and proven treatment to speed the healing process in certain types of wounds. In fact, many patients find it relaxing. 
Does insurance cover specialized wound care treatments?
Many insurance health plans cover wound healing treatments. If you have questions about coverage, call your insurance company.
Our Team of Doctors and Providers
Service Locations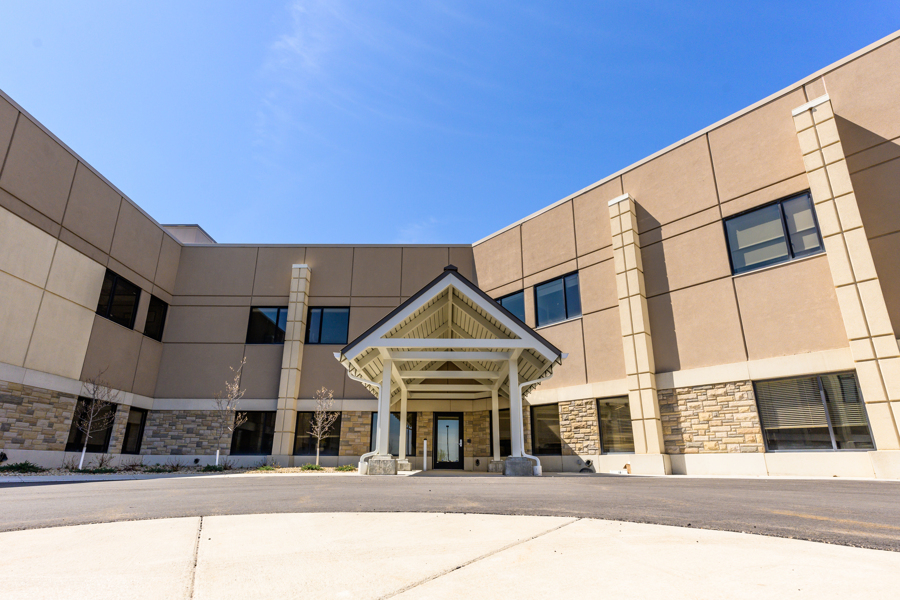 Northfield, Minnesota 55057
Open Now
Mon - Fri:
8:00 am-4:30 pm