Cancer Care Close to Home
From diagnosis through treatment and survivorship, we are committed to supporting you, your family and your support team throughout your cancer treatment.
Cancer treatments typically require multiple visits that can extend over weeks. The logistics can be exhausting for patients and their families who are already under a great deal of stress. Having this service nearby, saves patients driving time and the expense of staying overnight and eating out. You'll receive care close to home saving you and your support team, time and expenses.
Comfort and Convenience
The Cancer Care & Infusion Center was designed with you in mind. Rooms have big, bright windows that let in natural light and offer a restful, scenic view of the natural prairie. In addition, our healing environment offers:
On-site clinic

Immediate access to the cancer care team

Private infusion bays with large windows and meadow views

Convenient location, with reserved, free parking

Private rooms with beds for extended treatments

Reclining chairs with warmers

Aromatherapy

Free wifi, computer and cable TV

On-site lab services

Kitchenette

Library resources
On-site Cancer Clinic
We have an on-site cancer clinic staffed with Board-certified Medical oncologists/hematologists from Mayo Clinic. The multi-disciplinary team is here to support you. 
Medical oncologists/hematologists from Mayo Clinic
Certified oncology nurses
Advanced practice nurses
Cancer care navigators
Social workers
Physical therapists
Occupational therapists
Nutritionists
Cancer Care Services We Offer
Cancer Care Navigator

Full service chemotherapy, biotherapy and infusions

Mayo Clinic Radiation Therapy

On-site Lab Services
Cancer Care Navigators
Cancer Care Navigators are available to help patients navigate their cancer treatment from diagnosis through survivorship. Cancer Care Navigators are registered nurses who provide a support and counseling services:
Educate about diagnosis and treatment
Triage symptoms related to disease and treatment
Care coordination and appointment scheduling
Health, wellness and dietary counseling
Help with insurance issues and paperwork
Referrals to appropriate services
Liaison with the Medical Oncology and Radiation Oncology providers and staff
Emotional support and encouragement
Chemotherapy & Infusions
Chemotherapy and other infusions are offered five days a week. Therapy is administered by certified oncology nurses. Services offered include:
Advanced practice nurses on-site five days a week
Oncology certified nurses
Chemotherapy and biotherapy treatments for a variety of cancers
IV hydration and electrolyte replacement
Blood and blood component therapy
Central line maintenance and care for Hickmans, PICCs and Port-A-Caths
Surgical Services
We provide a variety of cancer related surgical services including General Surgery, Gynecology, Plastic (reconstructive surgery) and Ear, Nose and Throat (ENT). Having this capability in Northfield, offers a great comfort for patients and their families in terms of quality of care, as well as the convenience of being close to home.
Diagnostic Imaging
On-site, advanced imaging includes CT, MRI, and PET scans, as well as nuclear medicine, ultrasound, and 3D mammography. High quality imaging plays an important role in the diagnosis and ongoing evaluation of treatment of cancer patients. With state-of-the-art imaging technology, providers are better able to diagnose which can lead to less invasive biopsies. Get detailed information on Diagnostic Imaging Services.
Breast Care
Breast Care provides dedicated support for people experiencing breast cancer. We provide high-end, digital imaging including 3D mammograms, breast ultrasound and breast MRI with personalized education and support. Our goal is to provide complete and compassionate health care for all breast related issues in a quiet and comfortable setting. 
Mayo Clinic Radiation Oncology
We work closely with the Mayo Clinic radiation oncologists to provide radiation therapy to patients who need it at the Mayo Clinic Radiation Therapy across the street from the hospital. The world-class facility mirrors the technology and capability of the radiation oncology department at the Mayo Clinic in Rochester. It includes a state-of-the-art linear accelerator that delivers the external beam radiation that is used in 90 percent of radiation oncology cases. It is commonly used to treat lung cancer, prostate cancer and breast cancer.
The Cancer Care & Infusion Center collaborates with Mayo to provide system management and supportive care for patients receiving radiation treatment. This includes treatments such as IV hydration, intermittent IV pain medications, IV antiemetic administration, replacement of electrolytes, and lab draws.
Donations
Many family members and friends of those served by our cancer services make contributions to the Northfield Hospital Foundation Cancer Care Campaign as a thank you and to help others. Your gift provides comfort and relieves stress for cancer care patients and their families. 
Your heartfelt gift provides comfort to others:
Patient welcome bags with comfort items prior to starting first course of chemotherapy treatment 
Batterie operated candles to med-surg hospital room for women after mastectomy surgery 
Patient comfort bags prior to breast cancer surgery 
Weighted blankets to provide comfort to infusion patients
Reading materials for patients and families
Anything that can add to comfort and care for cancer care patients and their families.
How to Donate:
Donate to Cancer Care Now by credit card, debit card or bank account. Select Cancer Care in the "Select a campaign" drop down.
Donate by Mail: Please make check out to Northfield Hospital Foundation and write Cancer Care in the memo line. Mail to: Northfield Hospital Foundation 2000 North Avenue, MN 55057
Learn more about Northfield Hospital Foundation.
Support Groups
The Cancer Care & Wellness Group
This Cancer Care & Wellness Group is open to all oncology and oncology radiation patients treated in Northfield. You can attend at any point in your cancer care continuum. Facilitated group meetings focus on wellness strategies, conversation and mutual support. For more information, contact the Cancer Care Navigator at 507-646-6979.
Breast Cancer Support Group
The Breast Cancer Support Group is open to all, no matter where you are at in your breast cancer journey. Led by our Breast Care Navigator, you'll find support, education and useful information and a chance to share stories. For more information, contact the Breast Care Navigator at 507-646-1455.
Service Locations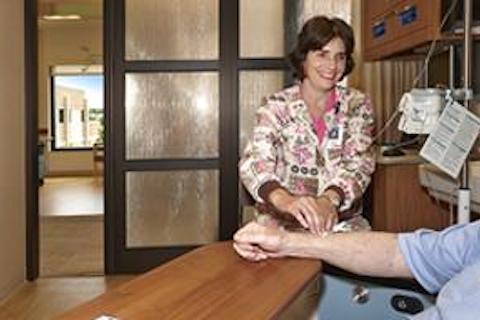 Cancer Care & Infusion Center
Northfield, Minnesota 55057
Open Now
Mon - Fri:
8:00 am-4:30 pm
Information, Resources & Links