Annie Binsfeld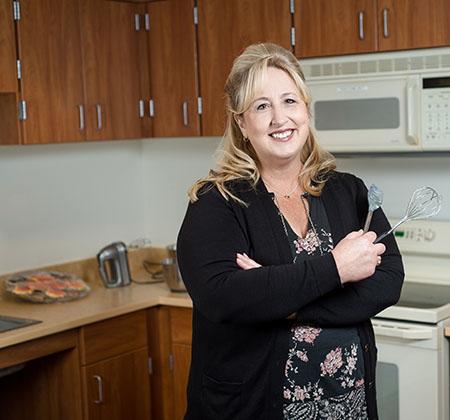 Annie Binsfeld sent her doctor a message. On cookies.
Annie had adenomyosis, a painful condition of the uterus that causes heavy bleeding, severe cramps and abdominal pressure. "It wasn't life-threatening; it just made life difficult sometimes," Annie says.
Her OB/GYN of nearly 30 years had explained the condition; "I thought I'd just wait it out," Annie says. When Annie switched her care to OB/GYN Shannon Lau, MD, they talked about options.
"To switch doctors was a big deal for me," Annie says. "Dr. Lau was great from the very first visit I had with her, and her staff is amazing. I feel like I made an excellent choice."
"Of all the physicians I've worked with, Dr. Lau has been very open and honest with me, and I feel like I can tell her anything," Annie adds. "That speaks volumes, because I haven't known her that long."
Dr. Lau explained Annie's options, including medication and surgery. "Dr. Lau was very thorough explaining each option, and she left the choice to me," says Annie, who mulled it over for months before choosing surgery.
Annie had a laparoscopic hysterectomy. "I had very little pain after surgery," she recalls. "I was so surprised to be up and walking so soon, and ready to go home the next day."
All along the way, "the staff was amazing – so professional and kind," Annie says. "The nurses in the Surgery Center and hospital were all fabulous, checking on me constantly and helping me if I had questions. I felt very well cared-for."
"I was in good hands, and I bounced back really quickly," Annie says. It was nothing like the hysterectomy her mother had when she was around Annie's age. "My mom is a retired nurse. When I told her I was going back to work in two and a half weeks, she thought it would take me longer to recover."
The day Annie went back to work, her mom was happily surprised. "I told her, 'I'm back, and I'm going back tomorrow,'" Annie laughs. "I felt great."
In fact, Annie felt good enough to bake beautiful, hilarious cookies for Dr. Lau and all the staff who cared for her.
"Cookies come from my heart, and I wanted to say thank you in the best way that I could," Annie says. "They all took such good care of me." With cheeky slogans like "Monthly subscription cancelled" and "No more crampin' my style" stenciled on the cookies, "I thought 'Oh, I hope Dr. Lau has a good sense of humor about this,'" Annie says. "Dr. Lau laughed when I delivered them."
Her advice for other women? "Don't be afraid to discuss anything with your physician. As women, we have lots of different things that can happen to us. Don't be afraid to ask questions, no matter how silly you think that question might be. It could be a sign of something more serious, and the earlier you find out, the better options you have for treatment."
It's good to have choices . . . in healthcare, and cookies.
Categories