Ashley Otte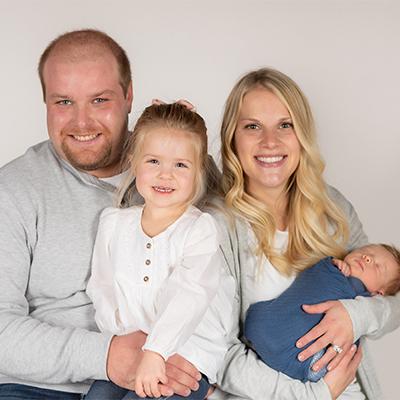 Ashley Otte found giving birth during a pandemic . . . peaceful.
Ashley was expecting her second baby when COVID precautions were put in place at the Birth Center. She worried that would make the birth experience harder than it was with her first baby.
Turns out it was even better.
Some things were the same: Ashley had hyperemesis with both pregnancies – extreme, persistent nausea that required a PICC line for intravenous nutrition.
Some things were different: The Birth Center had new, huge rooms with big windows and homey amenities. "You almost feel like you're in a hotel," Ashley says.
Plus, COVID precautions meant her husband Scott stayed the whole time . . . and no visitors were allowed. That let them both focus on bonding with their baby. "He couldn't leave the hospital to go do 3:00 am chores" on their dairy farm in Randolph. "It was great – he was stuck there with me," Ashley laughs.
COVID precautions improved Ashley's experience, starting with prenatal care. The OB/GYNs rotated throughout her prenatal appointments at the Women's Health Center, rather than all appointments with her longtime doctor Deb Suppes, MD. "I felt more comfortable meeting them all, since any one of them might deliver the baby, depending on who was on call," Ashley says. (By luck, it was Dr. Suppes.)
After a rough pregnancy, Ashley was eager for labor to begin. After a few false starts, her contractions intensified – in the middle of the night.
"The Birth Center staff was exceptional. They greeted us so cheerfully at 2:30 in the morning," Ashley recalls. "They were really supportive. We always felt we were in great hand and safe, even during a pandemic."
"We were really impressed with the level of care," including masks for Ashley and Scott when staff were with them. "They told us, 'You won't regret being overly cautious, but you would regret it if something happened.'"
When Levi was born, "he sat on my chest for an hour, and nursed," Ashley said. "I felt like I got time to bond with my husband and baby rather than feeling like I had to pass him around to our family and friends. I felt much less stressed this time, with no visitors."
They weren't completely alone, though. Their window looked out towards the Long Term Care Center. "This older lady across the way waved to us. We were having breakfast, and she waved and we waved back. It was the sweetest thing."
They didn't feel alone heading home, either. "When you leave the hospital, you have an entire medical team at the Birth Center whenever you need them. It's such a good feeling knowing if I ever have a question or problem, they are a just a phone call away."
Ashley's advice for other new parents? "It's far less stressful than I thought it would be with COVID precautions. I dreaded that it wouldn't be special like when our first baby Lucy was born – but it was. We followed our gut, and did what's right for our family."
Categories