Amundson, Berit, MD
Hospitalist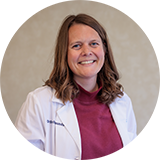 Meet Berit Amundson
Philosophy of Care
I was interested in medicine as a young person, and had great role models in the family physicians that served my hometown – I saw my first birth before I could drive a car! I have enjoyed working in a wide variety of settings as a family physician; I've delivered babies, worked in the clinic, ER and Urgent Care, in addition to international medical care (Honduras, Guatemala, Kenya, Peru, and Nepal) throughout my career.
My current position as a hospitalist allows me to treat and guide patients through acute illness and injury, reviewing their goals of care along the way. My favorite thing about medicine is getting to know patients (and their loved ones), hearing about their life, and making plans of care based on their goals and comfort levels.
While working as a primary care physician in Jackson, WY, I served as the hospice medical director, and I am currently the Hospice Medical Director at NH+C. I enjoy working with the hospice team, patients, and family members to review quality of life objectives. 
Personal Interests
In my free time, I enjoy running, travel, reading and camping. 
Languages Spoken
Education
College: St Olaf College
Medical School: University of MN - Duluth
Residency: St Anthony Hospital, Denver, CO
Certifications & Designations
Board-certified, Family Medicine