Beverly and Anthony Bechly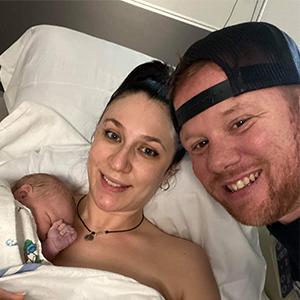 Beverly Bechly chose Northfield Hospital from 101 miles away.
Beverly and Anthony moved to Clear Lake, Iowa while Beverly was pregnant. "I only had a couple months to find somewhere that I felt comfortable to give birth," Beverly says.
The closest option was in Mason City, a 20-minute drive away. But Beverly was uncomfortable with the facility's reputation; plus, emergency care was a helicopter flight away.
"I like to take a natural approach as much as possible – I'm all about the hippy dippy stuff," she laughs. "But I wanted to be sure that if something happened, we had other options."
She researched every hospital within an hour and a half from home . . . and chose Northfield Hospital.
"I liked the location, and everything Northfield Hospital has to offer – the water birth suite, natural childbirth, pain management including nitrous oxide – and a dedicated cesarean suite if we needed it. That was important to me," Beverly explains. And when she called the Birth Center with questions, "they really knew what they were talking about."
"She did a lot of research and knew what she wanted, and she found it all here," Anthony says.
Pre-natal care at the Women's Health Center – with certified nurse midwife Jessica Bohren, APRN, CNM – sealed the deal for Beverly. "They were very calm, cool and collected, very informative, and I really appreciated that. And Jessica gave great continuity of care. She'd see me on her lunch break, because I was coming from so far away."
Beverly commuted 101 miles (one way) for pre-natal appointments. (Anthony joined her for ultrasounds.) When labor began, she felt confident about timing the drive. "Working with Jessica, the whole idea is to trust your body and trust yourself," Beverly says. So she slept between contractions, then called the Birth Center as labor progressed. "When it was time to leave, we got in the truck and my water broke instantly," she laughs. "The drive was beautiful. We watched the sunrise, and we were super excited."
The team was ready when Beverly and Anthony arrived. "Everyone was so sweet. Jessica was in and out during labor, which was fine. I trusted the nurses; they were very knowledgeable."
Beverly settled into the Water Birth Suite, with a yoga ball and nitrous oxide. "Nitrous doesn't take the pain away, but it helped me manage it," she says. "The tub and the nitrous together was a lifesaver.
"I felt positive, and calm," Beverly recalls. "I trusted my body, and Jessica kept reminding me that my body knows what it's doing. Anthony was amazing, reminding me that I'm strong. It was a great team."
Oliver was born in the water. "I held him skin to skin for a half hour before we got out of the tub," Beverly says. Anthony adds: "It was all very calm, very smooth. The whole experience exceeded our expectations."
The family moves a few times a year for Anthony's work as a wind turbine engineer. Beverly is hoping to have Oliver's pediatric appointments at NH+C before they move again. "I don't want to go anywhere else," she says.
Her advice for expectant parents? "Be flexible, be realistic, and be proud of whatever experience you have. It's a lot of work and a lot of energy, but ultimately if the baby is born healthy, you can't ask for more than that."
Categories