Bob and Kathy Wente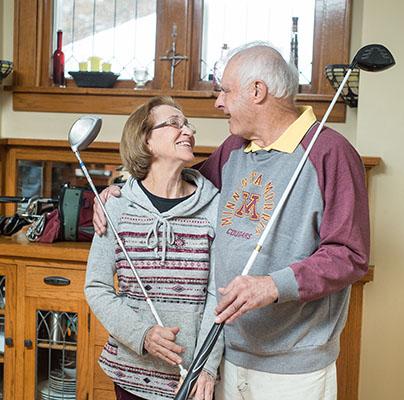 Bob and Kathy Wente give their orthopedics team four thumbs up.
Bob and Kathy get cortisone shots for joint pain in their thumbs. It helps with gardening, house projects, and their golf game.
"We want to keep going as long as we can with the things we enjoy," Bob says. "We know we could live with discomfort, but our quality of life would certainly suffer."
For about eight years, Bob and Kathy have worked with orthopedic surgeon Clinton Muench, MD to relieve arthritis pain in their hands. Now, they get cortisone injections every three months. Dr. Muench and Physician Assistant Deb McGuire Lang, PA-C use ultrasound to precisely guide the needle within the joint space (not the surrounding soft tissue) for maximum relief.
"It's uncomfortable for a few seconds, but that's how we can tell it's going into the right spot," Kathy says. "It's over in a few seconds, and we know it's going to work."
Each 15-minute appointment at the Faribault Clinic near their home is convenient and cost-effective, she adds. Kathy and Bob split their time between Faribault and Florida; both are retired from long careers in state social services.
When pain in his right hand started keeping Bob awake at night, Dr. Muench recommended surgery to reconstruct the joint at the base of the thumb. With Ligament Reconstruction and Tendon Interposition (LRTI) surgery, the damaged joint surfaces are removed and replaced with a cushion of tissue that keeps the bones separated. Bob had physical therapy after surgery; within a year, the pain was gone, his flexibility was back, and his golf game continued.
Kathy had her own sleepless nights with knee pain. An x-ray diagnosed advanced arthritis; Kathy opted for total joint replacement, followed by physical therapy. Before long, she was back in her garden. "They told me I'd need to work hard, especially at first, which I did. They gave me an A++ with all that I did in the hospital," she laughs. "Dr. Muench was a great lead for that team.
"Dr. Muench by himself is excellent; but when you have a team – and this is a really strong team – that makes all the difference," Kathy continues. "I tell the staff, 'You really make those doctors shine.'"
"All the staff are very pleasant people, and everyone is so familiar to us," Bob adds. "It's an awfully good team that knows what they're doing. They let you know what's wrong, what your options are, and give you all the information you need to make your own decision. You really feel like part of the team."
Categories