Gonzalez-Mendez, Cristina, MD, FACOG
Obstetrics/Gynecology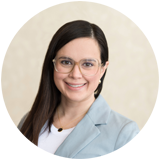 Meet Cristina Gonzalez-Mendez
Philosophy of Care
The most important thing for me is to make my patients feel they are my priority. I will always pursue the safest environment and up to date treatments to create a meaningful lifelong relationship. 
Filosofía de cuidado: Lo más importante para mí es hacer sentir a mis pacientes que son mi prioridad. Siempre velaré por ofrecer los servicios más modernos evidenciados por la medicina en un ambiente seguro, con el propósito de crear una relación con mis pacientes que dure toda una vida.
Personal Interests
I love to spend time with my family and kids. I also like to go out to the movies, and check out the local food scene. Intereses
Personales: Me encanta pasar tiempo con mi familia y mis dos hijos, también me gusta ir al cine y probar distintos tipos de comida.
Languages Spoken
Special Interests
Contraception/Contracepción
Prenatal Care/Cuidado Prenatal
Sonography/Sonografía
Minimally Invasive Procedures/Procedimientos ginecológicos mínimamente
Education
College: University of Puerto Rico, Mayaguez Campus, BS, Microbiology
Medical School: University of Puerto Rico, Medical Sciences
Internship: University of Puerto Rico, Obstetrics and Gynecology
Residency: University of Puerto Rico, Obstetrics and Gynecology
Certifications & Designations
Board Certified, American Board of Obstetrics and Gynecology
Fellow of the American Congress of Obstetrics and Gynecology