Davis Bailey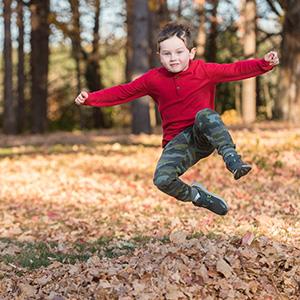 Davis Bailey's weekend took a short detour.
The four-year-old had symptoms of a possible infection. The good news: It didn't seem that bad. The bad news: It was Sunday.  
Rather than wait until Monday, Davis' mom Erin took him to Urgent Care Northfield.  
"It wasn't a huge issue, so we didn't want to go to the Emergency Department," Erin says. "But we did want to have it looked at before Monday, for the comfort of having some answers, and for ease of life to know if we could keep our regular schedule for Monday." 
When Erin and Davis arrived at 9:00 a.m., they were third in line as Urgent Care opened. They were in an exam room within 15 minutes. (Urgent Care is triage-based care. Patients are seen based on urgency of symptoms, not in order of arrival.) 
"The nurse was efficient and super friendly with Davis – she had good rapport with a 4-year-old who didn't want to be there," Erin laughs. 
Provider Sheena Buchholtz, APRN, FNP-C asked "a lot of good questions about the situation and past experiences to get up to speed on his medical history," Erin says. "I was impressed by the level of questions she asked. And she was willing to answer all the questions we had, even things not related to the main reason we came in," like that little cough Davis had.  
A physical exam and a quick lab test gave Erin the answers she wanted. Davis got a sticker, then some ice cream at home, and got on with his day feeling fine about his detour to the clinic.  
"It was such a relief to have answers, to be able to take care of it so easily, and get back to our weekend," Erin says.   
Follow up was smooth, too – in both directions: "They made it clear that they'd follow up with full lab results, and also made me comfortable that we could call or come in on Monday if Davis wasn't feeling better by then." (He was.)  
"It's so great to have an option when your primary clinic isn't open," Erin says. "For things that don't need the Emergency Department – an ear infection, or strep throat – it's great to be able to get test results and treatment and move on with your day." 
Urgent Care is a much better option for less-serious conditions. "It's not helpful to rely on the Emergency Department for those kinds of needs, because it bogs down the healthcare system," Erin says. "I don't want to be sitting in the ED when someone who really needs that level of help comes in." 
Erin's advice about Urgent Care: "If you need it, use it. Urgent Care provides peace of mind in those off- hours. It gives you the reassurance that you've found some answers." 
And keeps the whole family on track.
Categories