Eileen Larson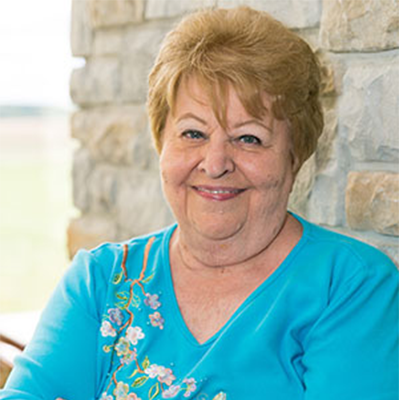 Eileen Larson makes her own choices.
Eileen noticed a lump as she was getting dressed. "It looked like an egg tucked under my T-shirt. I let it go a couple weeks thinking it would just go away."
It didn't. Her primary care provider Jack Felland, MD ordered a mammogram and ultrasound, which confirmed cancer and showed pre-cancerous activity in Eileen's other breast.
"I had already decided to take both off, because that would be the easiest," Eileen says.
After her double mastectomy, Eileen chose not to have chemotherapy or radiation "at my age," she says. "If they got it all, they got it all. If it comes back, then I'll talk with my doctor again."
Eileen's daughter is getting chemo for advanced lung cancer. "That's partly why I put it off, to be there for her," Eileen explains. Her other kids encouraged Eileen to take care of her own health, too. "When we're so used to caring for others, sometimes we need a little push to care for ourselves, too."
It's been tough accepting help. "I had to eat a lot of humble pie," Eileen says. "The first time my son and his wife had to give me a shower, it was hard. But I thought 'It's just got to be done,' so we did it."
Her care team at Northfield Hospital + Clinics "is awesome. Other places don't even have a breast care coordinator at all, certainly not such a caring, compassionate person as Vicki Jahr at the Breast Care Center. She always goes the extra mile."
"My daughter in law wonders if NH+C gives employees an extra test when they hire them, because they all have such great attitudes and personalities," Eileen says.
"Everyone at each step, including the surgeon, was very good at listening to me," Eileen adds. "Every doctor I've dealt with has been intelligent and straightforward – and respectful of my decision making. I know they gave me the best, most up-to-date information; it wouldn't have been any better if I went to Rochester."
Eileen's other choice: No breast restoration surgery. "I just went to Nordstrom's for prostheses. My clothes look a lot better on me now than they did before," she laughs.
"It's better to go through this together with family and close friends. And just keep pushing through. One day, you'll feel great."
Categories