Hannah Simmons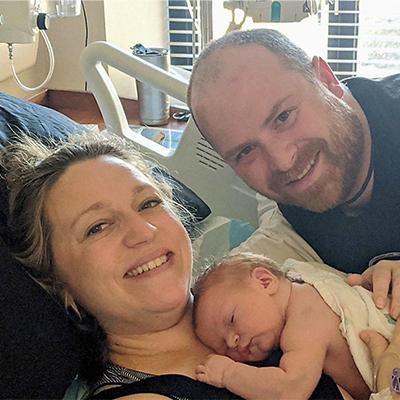 Hannah Simmons chose NH+C's Birth Center for its calm approach to childbirth. Then things got complicated.
Hannah and her husband Marty had special plans for the birth of their third child, their last. Their two sons would help welcome the baby, and a photographer would capture the moment their family was complete.
Hannah was anxious after the complicated birth of their son, born in 2017 with a congenital heart defect that required surgery when he was 2 days old. (He's a healthy toddler now.) Hannah relied on her trusted obstetrician Nicole Dohm-Palmer, MD to ease her fears. "She was so calm, and so cognizant of my anxiety during my pregnancy," Hannah recalls. "She took as much time as I needed to talk through my questions and feelings."
Then COVID-19 arrived.
"Things changed very quickly in the last few weeks of my pregnancy," Hannah says. "When COVID-19 changed hospital protocols and added all of these precautions, I was sad for not being able to have our boys come meet their new sibling. But disappointment can coexist with gratitude for the precautions to keep you and your baby safe. And I thought, 'OK, if a pandemic is the worst that can happen, we can deal with this.'"
Pandemic, it turns out, was not the biggest challenge.
Hannah's labor started out well. But after five hours of labor and two hours of pushing, the baby wasn't coming. Dr. Dohm-Palmer recommended a cesarean section. "She held my hand as she said, 'Hannah, I know this isn't what you were hoping for, but I think it's what we need to do to get your baby out safely,'" Hannah recalls. "She was so compassionate, and I trusted her implicitly."
Baby Blake was born healthy, but Hannah's uterus was spontaneously injured. Hannah was in surgery for five hours; she lost her right ovary and fallopian tube, and over half her blood. She required a transfusion and significant repair to her uterus. Dr. Dohm-Palmer and OB/GYN Deb Suppes, MD performed the surgery.
Hannah spent four more days in the Birth Center recovering. The nurses, especially Cory Griemann, RN "took such incredible care of me," Hannah says. "Cory was so kind and comforting. She was willing to sit and listen to anything I needed to talk about — what I had gone through, how anxious I was going home, and how I would recover without the support we'd normally have from family and friends" who had to stay separate to prevent the spread of COVID-19. "I was a little scared leaving because we felt so safe there. I felt so protected and cared-for and not rushed in any way to be discharged. The whole staff, they're just really wonderful people."
Dr. Dohm-Palmer sent Blake a baby hat that she knit herself. "That human-to-human gesture is so invaluable, especially in this time when we're so disconnected from our loved ones. Our medical providers are our most trusted professionals, and people we're still able to see when needed," Hannah says.
Hannah knows other expectant moms are anxious about COVID-19. As a quality improvement specialist for the Child and Family Health Division at the Minnesota Department of Health, Hannah is part of the public health teams involved in Minnesota's COVID-19 response. "The headlines are scary," she says. "I worry that women are considering home births because they're afraid that they won't have a support person, or their baby won't be able to stay with them. That's not the case. There's a lot of misinformation circulating and feelings of helplessness among moms who are expecting."
Precautions at the Birth Center reassured her: A single support person, no visitors, health screenings, hand hygiene, staff vigilance. At the same time, "they went out of their way to share with us the joy of bringing a baby into the world," Hannah says. "The smiles and positive energy they brought to the atmosphere were what helped us feel normal the most."
Her biggest reassurance? Having hospital-level care when she and her baby needed it.
"Northfield Hospital doesn't treat birth like a medical emergency, but like a natural part of what your body is meant to do," Hannah says. "But if a medical emergency happens, they're ready."
Categories