Helene Haapala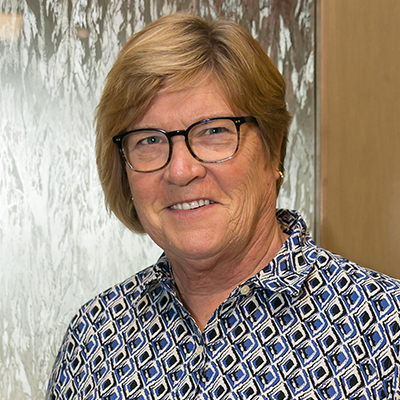 Helene Haapala takes on challenges one step at a time.
An avid athlete – five marathons, the grueling Birkebeiner ski race, a dozen MS150 bike tours – Helene relied on strong knees over the years. She had surgery four and five years ago on each knee to repair tears in the meniscus, flexible cartilage that cushions the knee.
Then, pain in her right knee worsened. Cortisone shots helped for a while, but pain limited her daily life. "You know the old Pac Man videogame where he chews his way through the maze? My life was getting smaller bit by bit like that: I wasn't doing stairs anymore, I wasn't walking distances. The little things were chewing my life smaller," she says.
the time her x-rays showed bone-on-bone friction, Helene was ready for joint replacement. Her wife had her hip replaced the year before at Northfield Hospital; that good experience gave Helene confidence.
She asked her primary care physician, Dr. Mary Ann Scheid, to recommend a surgeon. "Dr. Scheid said, 'Choose an experienced surgeon who has done the procedure many times. And choose a hospital with low infection rates,' which Northfield Hospital has," Helene recalls. "My mom has friends who have died from hospital infections, so I take that seriously."
Northfield Hospital has a stellar record on infections. Plus, the hospital "doesn't feel impersonal; it doesn't feel institutional, like other hospitals," Helene adds.
Helene chose orthopedic surgeon Clinton Muench, MD. "He seemed to really know what he was talking about. He gave me information so I could make a choice," she says. Dr. Muench was down to earth and genuine – a pleasant change from her past experience with surgery in the metro area. And Dr. Muench's staff "was great," she says. "They gave me a lot of information ahead of time about what to expect."
Dr. Muench replaced Helene's knee in April. She chose Spring so she could heal during warm weather, with four months of rehabilitation before a trip to New York City in August.
In the hospital the night after her surgery, "you have to get up that first night and walk, and I was scared it would be painful," she says. "One of the nurses told me what a difference it makes for the success of a new joint when you're willing to try."
Pain management was important. "My fear was that when the nerve block wore off after 48 hours, the pain would go 'Boom!' – and it didn't," she says. To prevent the fear of pain from holding her back, Helene relied on having enough information to anticipate each step, and move at her own pace.
"From Dr. Muench and his assistant Deb to the hospital staff and my physical therapist, everyone gave me enough information that helped me move forward, because I could focus on whatever was the next thing," Helene says. "I thought about the challenges, and I prepared for them."
Physical therapist Jay Ellerbusch made sure Helene got full use of her new knee. "He was a great coach. He knew how to push enough and not push too much that it gets too hard," she says. Five weeks of therapy included clinic visits and exercises at home, using short videos. Four months later, Helene was walking all around New York, including Ellis Island – powerful symbolism for someone who emigrated to the U.S. from Finland as a child.
"Before surgery, I had a low-grade pain most of the time, and it was getting worse," Helene says. "Now it's getting better, and I can do more stuff. Someone told me it takes at least six months before you don't think about your knee a lot – when you see stairs or carpeting, you don't automatically think how to adjust for it. And it's a real milestone when people can't tell which knee is the new one."
And that kind of marathon is worth winning.
Categories