Honoring Florence and Richard Elstad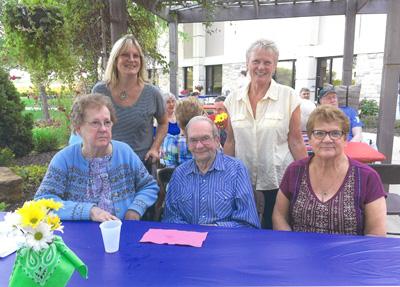 Connie Cihak and Lori Drentlaw's experience with the Northfield Hospital + Clinics Long-Term Care Center began with a scare and ended several years later with grace and gratitude.
Their parents, Florence and Richard Elstad, both 86, were living independently in the country, about 10 miles outside Northfield. Richard was physically robust, but experiencing significant dementia. Florence was able to manage the home by giving Richard clear, simple instructions, which he faithfully followed.
"My sister, Lori, our aunt, Shirley, and I had some concerns about them being out there on their own," Connie recalls, "but with daily visits and family help, they had a good little system going to try to keep their independence."
When Florence suffered a serious fall in the middle of the night, she received emergency care at Northfield Hospital. While there, Connie, Lori, and Shirley first met with the Hospital's social services team and began the discussion of whether this was the moment to move Florence and Richard into the Long-Term Care Center.
"It was very encouraging, the way they talked our mother through the transition. They helped her understand that this was a natural part of aging, and they told her they would love to have the two of them stay [at the Long-Term Care Center] and be part of the family."
Richard was there for just over a year before his dementia deepened and he had to move to a memory-care facility. Florence lived at the LTCC for nearly five years. "From the beginning, it was an immediate improvement in their quality of life," says Connie. "They had activities, they went to events, they had music in their lives. For that first year, they were the only couple there, and that created a special bond with the staff."
Before COVID, Connie, Lori, and Shirley each visited Florence two or three days a week. Other family members from out of town would stop to visit, and they even held family gatherings there. Over time, they got to know the care givers well, and came to appreciate how skillfully they kept the residents engaged. As Richard's health deteriorated, the Life Enrichment team came up with simple activities, like a container of nuts and bolts he could sort and put together.
Image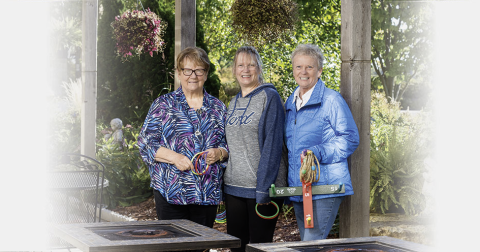 "The staff gave us a sense of confidence. We could walk out of my mom and dad's room and go home, knowing they were going to be taken care of. We didn't need to constantly check. We just knew."
That sense of confidence was a reflection of the longevity of the staff, most of whom have worked at the Long-Term Care Center for many years. As Connie remembers, "toward the end when we were coming and going, we'd share hugs." She laughs at the memory. "I still run into some of the staff at hockey games or in the grocery store. I still follow the Long-Term Care Facebook page to see what the residents are doing."
"But while Mom was there, COVID hit. All of a sudden, everything fell on the staff. They were meeting not only physical needs, nutritional needs, and personal care needs, but they were also keeping everyone's spirits up when they couldn't have visitors, couldn't see family and friends for birthdays or Christmas. That was when we made a family decision to provide funds to support the activities of the LTCC."
While Florence was alive, the family made financial contributions to provide resources for extra activities in the Long-Term Care Center. "We wanted to be sure that if the staff came up with an idea for activities, or music programs, or other entertainment, nothing would prevent them from doing things to take care of the residents. We told them it didn't matter if our mom participated or not. If it was something they wanted to do for the community, we wanted to support it."
When Florence died, the family directed Memorial gifts to the Long-Tern Care Center through the Northfield Hospital Foundation. "One of the first things our contributions were used for was outdoor fire pits," said Connie. "Our mom really loved being outdoors, roasting marshmallows on the patio. Even when she wasn't out there herself, she wanted to watch other people enjoying it, too."
Categories