Honoring
Laurie Hale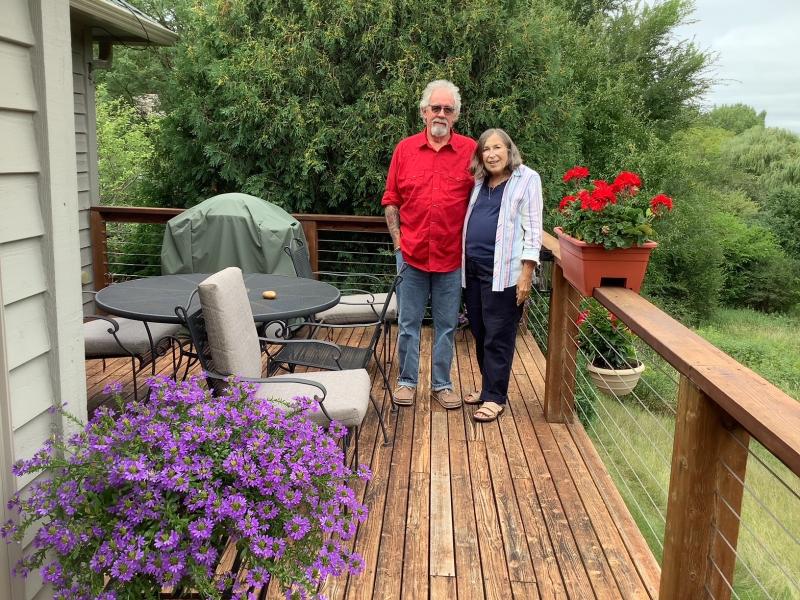 When Laurie Hale needed cancer treatment, she and her husband were grateful that she could receive care locally. "There was a lot of comfort in knowing that we could stay in our own town and get the care that we needed." Now, Laurie's husband and family are giving back to help others going through cancer treatment.
Laurie Hale had a happy childhood in Faribault as the youngest of five sisters. In her early twenties, she met her future husband, Peter Yungen, at a party when he was working at KDHL. From that first meeting, they were rarely apart. "She was the love of my life," said Pete.
Career ambitions and the allure of warm weather took them to California in 1973. Over the years, they built a life around work, travel, their pet birds and gardening in their yard.
Laurie loved to travel, and her trips with her sisters Jean, Bonnie, Kathy and Linda were among her favorites.
Whenever she was visiting home in Minnesota, the sisters would hop in the car and take road trips to places like Mankato, Red Wing, Duluth, Wisconsin and Illinois.
"Our sister trips were filled with lots of fun and laughter. When Laurie wasn't coming here, all of us sisters would go out to California to see them," said Jean. "We just had wonderful times," agreed Linda.
After 42 years in California, the time seemed right to move back home. They wanted a slower pace, and being back near Laurie's sisters was a big draw.
"We were so excited when she mentioned they wanted to move home. I started looking for a house for them right away and found one in Northfield," said Jean. They settled in Northfield in 2015.
In 2017, Laurie started bleeding. She made an appointment to get checked. They found cancer in her uterus. A biopsy of the cancer revealed that Laurie had metastatic lobular carcinoma of the breast. Lobular breast cancer grows in a line instead of a mass, and can show up in unusual places like the uterus.
This was a total shock.
"She did everything right. She ate right. She lived right. She had regular mammograms. It wasn't until they did the PET scan that they found the tumor," Pete said.
Laurie was referred to the Cancer Care & Infusion Center (CCIC) where she met with Mayo oncologists and began her treatments.
"We liked that the CCIC had Mayo oncologists onsite. Mayo has a great reputation and to be able to get Mayo care in Northfield was incredible," said Pete.
Laurie's was a very complex case of cancer. Over the next five years, Laurie did everything to stay alive. She had surgery that included both a hysterectomy and double mastectomy, endless rounds of chemotherapy, and blood transfusions all at Northfield Hospital. She had multiple rounds of radiation at the Mayo Clinic Radiation Therapy across the street from the hospital.
"The cancer she had was brutal. It was just awful. And there was a lot of comfort in knowing that we could stay in our own town and get the care that we needed. We were grateful that we didn't have to go to the Cities or Rochester. We could do it all locally," Pete said.
Countless hours were spent getting cancer care at the CCIC over the five years. Laurie and Pete really got to know the staff, and shared their story and love with them.
"We knew everybody, and everybody helped us. Nurse Caroline was always there, and nursing assistant, Mary always had a smile on her face at the front desk. Mayo Clinic nurse practitioner Tami O'Brien was great and Jodi Wieczorek, CCIC Director, has a big heart. The nurse navigators, the lab workers, everyone was great," Pete said with a smile.
"Pete was by her side every minute of it. Every day. Every year," said Linda.
"I got to know Laurie and Pete over the years. You could tell there was a lot of love there. She enjoyed looking out the windows at the nature views, and we would talk about flowers. She always gave everyone a smile," remembered CCIC team member Mary.
The Cancer Care & Infusion Center's scenic nature views were a source of peace for Laurie and Pete as they spent countless hours in the infusion suites. "Nature was important to Laurie. She loved plants and our pet birds so it was comforting that the CCIC has amazing nature views where she could see plants and birds while she had her treatments," said Pete.
After five years of fighting, Laurie's care team told Laurie and Pete that the treatments weren't helping Laurie anymore.
Laurie passed away in her own house surrounded by her beloved husband, her sisters, her birds and her plants.
"Those two had a special place in my heart. I spent a lot of time with them. Over time, I realized how funny she was and that she was quite a fighter! Her husband Pete was always by her side. I'm grateful to Laurie, Pete and their family for donating money to help others going through cancer. What a kind and thoughtful gift," said nurse Caroline.
Why we donated to the Cancer Care & Infusion Center for Laurie.
After Laurie's death, various family members and friends have made memorial gifts in Laurie's honor to the Northfield Hospital Foundation directed to the Cancer Care & Infusion Center.
"I wanted to do it and I felt like I needed to do it. I wanted to say thank you for everything they did for Laurie," explained Jean. "I wanted to do something to remember and honor her by," Linda added.
"We spent a lot of time there and they did all they could for us. Laurie was lucky to have been prosperous and insured. Not everybody is as lucky. Perhaps our donations can help somebody who needs help," explained Pete.
"If the nurses need to get a new toothbrush for someone, they can. They know what is most needed. If it can help somebody else, that's the idea."
CCIC is grateful for the donations
Jodi Wieczorek, Director of the CCIC, is grateful for the thoughtfulness of Laurie's family to donate to the Cancer Care & Infusion Center. "We use the funds to purchase items that the nursing team can use to help comfort patients and ease side effects of treatment. Maybe they rest a little more comfortably because we can let them use a weighted blanket during their cancer treatment, or a new cancer patient finds an item in the welcome pack they received that helps them manage a symptom of their treatment, or a patient finds comfort and hope as they recover on the Med/Surg unit with glowing candles placed in their hospital room. Their donations help make that possible.
"It was an honor to care for Laurie and support her dedicated husband and family in her care."
Categories