Jack Tuma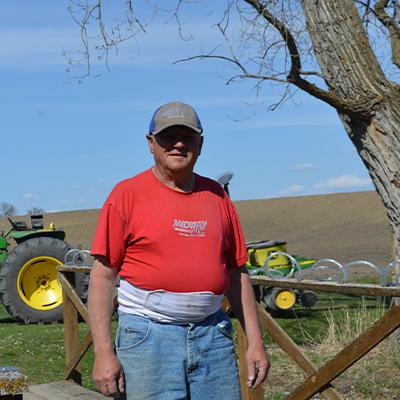 Jack Tuma needed two rounds of IV antibiotics: One before the pandemic, and one after it started. He trusted NH+C for both.
The pain in Jack's back was so strong he went to the Emergency Department at Northfield Hospital. There, Dr. Alice Suchomel diagnosed a rare infection in his lower spine, and asked where Jack wanted to be treated. He chose Mayo Clinic. "They whisked me off in an ambulance to Rochester," Jack says. Doctors there prescribed a six-week course of antibiotics, to be given by IV each day. Jack chose NH+C's Cancer Care & Infusion Center for his treatment.
Jack got better for a few weeks . . . and then the pain returned. Jack went to his family doctor, Dr. Greg Randall in the Lonsdale Clinic. An MRI confirmed that the infection had gone deeper into his spine. "Dr. Randall said, 'You get to Rochester right now,'" Jack recalls. He had emergency surgery at Mayo; afterwards, Jack needed another six weeks of IV antibiotics.
"Mayo wanted me to have the infusions in Rochester and I said, 'No, that's not happening at all. Northfield can do it.'"
This time, Northfield Hospital had precautions in place against COVID-19. Jack was grateful for the extra care. "I appreciated that they took my temperature each time because that reassured me I was all right. I actually looked forward to it," Jack says. The screening questions, hand sanitizer, face masks – "It all reassured me that everything was okay.
"I don't know why people would be scared to go to the hospital. It's one of the safest places to be right now," Jack says. "I felt plenty safe being there."
Jack has high praise for the Cancer Care & Infusion Center staff, too. "They give real good care and are real friendly and quick. I couldn't have asked for better."
Jack likes having excellent, easy care so close to his Lonsdale farm. "It's a day and night difference between Mayo and Northfield Hospital," he says. "In Northfield, you just pull up to the door and go in and get what you need. It's so much easier than going to Rochester."
"There's a lot of procedures that Mayo wants me to come to Rochester for, and I just say, 'Northfield can do it.'"
Categories