Jackie Flynn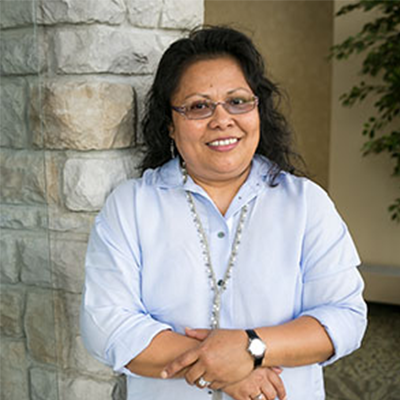 When Jackie Flynn's surgery needed more, her doctor made it happen.
Jackie is a long-time patient of Dr. Deb Suppes, an OB/GYN specialist. "She's always the person I look up to when I need a checkup," Jackie says. "You can ask questions freely, and she happily tells you what is going on."
Then Jackie had an emergency. She came into Northfield Hospital's Emergency Department with pain high in her abdomen – a possible symptom of heart attack. Instead, a CT scan showed a mass near Jackie's ovary, and fibroids in her uterus.
Jackie talked with Dr. Suppes about painful periods that were getting worse; a follow-up ultrasound gave a clearer picture of the fibroids and the mass, now visible as a cyst. Together, they decided the best plan was a hysterectomy, to stop the pain from fibroids and remove (and examine) the cyst.
The plan was laparoscopic hysterectomy, a minimally invasive surgery that uses a thin scope to guide the surgeon. But during Jackie's surgery, Dr. Suppes discovered adhesions – scar tissue that makes organs stick together – so dense that the laparoscope was no longer an option. While Jackie slept, Dr. Suppes shifted to a full abdominal hysterectomy.
Then a further complication: Jackie's ureter was caught in the adhesions, at risk of injury. Dr. Suppes called in a urologist to join the surgery; he put in a stent to protect the ureter during surgery and healing.
"I was nervous for the surgery," Jackie recalls. "While I was in the operating room, it was supposed to be three hours and ended up being seven." Jackie says. Dr. Suppes updated Jackie's husband during the surgery to explain the complications and the need for a second surgeon.
"For a hospital our size, we have resources and other specialty surgeons available when we need them to help us take care of the patient," Dr. Suppes says. "I didn't know we were going to need a urologist until we were in the middle of the surgery, and we were able to call a urologist to come in and help us out. If I had needed a general surgeon, we had one available. We have all that expertise right here in our own hospital."
"We feel confident that even when we're met with unexpected situations during surgery, we still can do what's in the best interest of the patient," Dr. Suppes adds.
"Dr. Suppes is awesome," Jackie says. "She says, 'You can call me anytime; I'm on call for you anytime.' When you have one person that you trust, it's good to have someone like that."
Even when you need more than one surgeon.
Categories