Jim Schlueter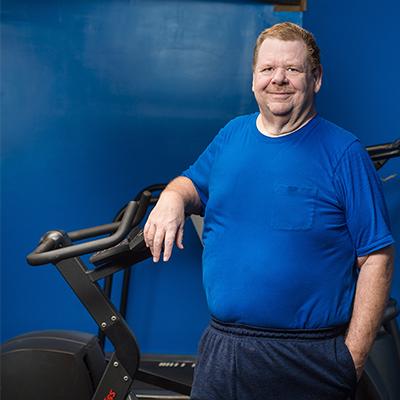 Jim Schlueter had to lose a lot in order to regain his life.
Arthritis and heavy physical labor deteriorated Jim's hip joints over the years. One joint kept popping out of the socket, and Jim's balance was poor. He was big, too – extra weight put stress on his joints, and heightened his pain.
Jim was in a wheelchair for his first visit with orthopedic surgeon Clinton Muench, MD who said Jim's weight and high body mass index (BMI) ruled out surgery. "I was hurt and disappointed to say the least. But when he shared with me the health reasons, I got very serious about losing weight," Jim says.
At the same time, Jim's wife of 36 years was diagnosed with cancer, and passed away after only 56 days. "My daughters said, 'Dad, we need you around' so I knew I had to get my weight down so Dr. Muench could repair my hips. I wanted to show my girls that I'm planning on being around for a long time, and to honor my wife in some small way," Jim says. "I got to work."
Jim lost 200 pounds over 18 months – while in his wheelchair. On his next visit to Dr. Muench, Jim walked into the clinic. "Dr. Muench didn't recognize me at first. Then he was surprised to see how much weight I had lost," Jim recalls. Dr. Muench asked Jim to lose 50 more pounds; Jim asked Dr. Muench to look beyond BMI and consider surgery. A consult with his colleague Deb McGuire Lang, PA-C convinced Dr. Muench to perform total hip replacement with an anterior approach (incision in the front of the body).
"When I first met Jim, I told him I didn't think it was physically possible for me to do a hip replacement on him, because of his size," Dr. Muench says. "After losing 200 pounds, Jim was still a big man. I still wasn't sure I could do it. Jim challenged me to get out of my comfort zone and consider replacing his hip."
Dr. Muench and team performed a direct anterior approach procedure with multimodal pain management protocol. "Jim had less pain, and was able to mobilize more quickly, early in his recovery, compared to more traditional approaches," Dr. Muench explains.
Jim recovered so quickly from the January surgery he was ready by April to have his other hip replaced. Jim dropped another 20 pounds between surgeries. Afterwards, tackling two challenges – new joints, plus physical deterioration from four years in a wheelchair – Jim rebuilt his strength, agility, coordination and balance. "Now with two new hips, my life is starting to return to normal," Jim says.
He's back to running his business, taking care of his daughters and granddaughter – even snow-blowing driveways across the neighborhood. The wheelchair is gone.  
"Being home bound and needing help was a helpless feeling. It put a lot stress on my kids to have to pick up my slack," Jim says. "Now I'm able to pick up that slack and I'm starting to feel like I'm contributing to the family."
"I'm so much stronger today than I was a year ago."
The entire staff at the Northfield Hospital was "fantastic, from the clinic to pre-surgery prep and everyone at the hospital – they all exceeded my expectations," Jim says. "I would highly recommend them to anyone needing a joint replacement."
And Dr. Muench? "I liked that he was very straightforward with me and that he challenged me. I know he never expected to see me again after our first visit. That's why I cut out his photo from NH+C's magazine and put it on my bedroom mirror and in my workout room. That way every time I started to give up on myself, I would see he's picture and say, 'Not today, doctor. I'm going to get my workout in.'"
And now Jim is standing tall.
Categories