Kate McGrogan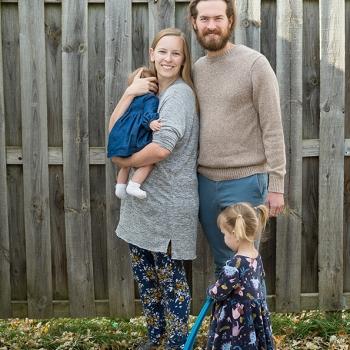 Kate McGrogan got the birth experience she wanted.
Kate wanted a midwife to deliver her second baby. She liked the option of a water birth, and wanted the natural process and freedom of movement that midwives encourage. 
Kate was past her due date and the baby was big. Her care team agreed to induce labor with medication, then breaking her water.   
"It got intense really fast," Kate says. "The contractions were so strong. I was really grateful for the water birth tub, to cope with the intensity of contractions. It kept me feeling in control."  
Midwives Janelle Dahl, APRN, CNM and Brittany Cordes, APRN, CNM helped Kate through labor, letting her labor in positions that Kate chose for herself. 
"They're both so wonderful," Kate says. "Janelle's demeanor is so calming. When I was transitioning, she asked, 'Do you want me to stay, or leave for a while?' I said, 'I want you to stay because it's happening fast.'" 
Kate credits the midwives with keeping her calm: "I was so relaxed that my husband says I was actually chipper between contractions," she laughs. That calmness, and the warm water of the birthing tub, prompted Kate's body to deliver the baby without forced pushing (a condition called "fetal ejection reflex" or "Ferguson reflex"). "I just had to let my body do its work; I didn't have to make it happen," Kate recalls. 
Baby Edith was born after an hour of labor. "She didn't cry, and we were concerned," Kate recalls. "But they told us, 'Babies born in water are just so calm.'" 
"The nurses were really attentive," Kate adds. "It was amazing to feel so safe and comfortable in a hospital setting." 
Kate, who lives in Faribault, chose Northfield Hospital's Birth Center because it blends midwife care and natural childbirth with the resources of a hospital if needed. "You're just down the hall from the surgical area if you need it," Kate says. With midwives on call 24/7, that reassured Kate that a midwife would be there when it was time to give birth. (Kate made her decision before starting prenatal care, to keep her insurance coverage consistent throughout.) 
Kate intentionally spread out her pre-natal appointments among all the midwives so she could meet each of them before giving birth. 
"I'm amazed how the midwives know so much. I can ask them anything, and they know the answer and where to find it," Kate says.  
"I trust them so much with my care," Kate adds. "They're so caring and calming. I knew that if something went off my plan, I could trust them to know what to do, and to know what I want. They'll apply interventions as needed when you want, and also let the natural process happen at the same time, as much as possible." 
Kate's advice for expectant moms: "Make sure you find a provider team that you trust with however you want your birth plan to go." 
Then just trust your body . . . and your team.
Categories