LeAnna Robak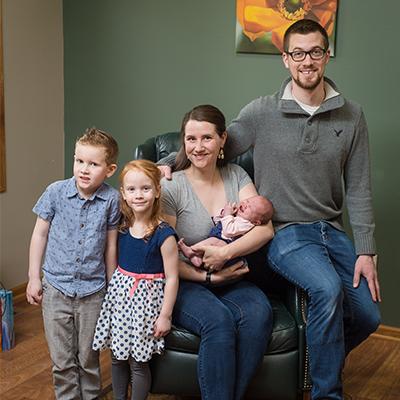 LeAnna and Thomas Robak experienced a first with their third baby.
LeAnna and Thomas wanted natural childbirth again.
Joseph, now 6, and Lydia, 4, were both born in a big Texas hospital via unmedicated childbirth attended by doulas, delivered by an obstetrician.
This time the details were different: a smaller hospital, with the option for delivery by midwife . . . and a birthing chair.
"Everything at the Birth Center lined up with what we wanted for natural birth with minimal interventions," LeAnna says. "That seemed like their goal, too. I felt like I was well cared for without having to spell out what I wanted."
When LeAnna arrived in labor, "they looked at Thomas and me and said, 'You guys have got this, just let us know what you need,'" she recalls. "They made sure we knew the support was there."
One option new to the couple: a birthing chair.
Certified nurse midwife Jessica Bohren, APRN, CNM offered the chair as LeAnna squatted through contractions.
"That position was the most comfortable for me, but I was getting tired," LeAnna says. "I wasn't sure about the birthing chair at first, but it really worked to reserve my strength through those really intense contractions."
The chair was low enough to let LeAnna crouch, with nurse Angie Miner, RN behind LeAnna to support her back (and massage it).  "When I was tired, having that chair and that support while keeping that same squatting position was really nice," LeAnna says. "And being able to deliver Camille on the chair was great."
Working with a midwife was new for LeAnna and Thomas, too. "Jessica coached me through with a balance of breathing and pushing. She did a really good job of helping me focus and get through that pain," LeAnna says. "The timing worked out well for Jessica to deliver the baby. We were very appreciative for her support."
LeAnna and Thomas considered two hospitals equal distance from their Farmington home: Ridges in Burnsville, and the Birth Center at Northfield Hospital. LeAnna liked the convenience of prenatal appointments at NH+C's Farmington Clinic, close to home.
"We both liked Northfield Hospital's support for natural birth, plus the safety of being in a hospital, if anything goes wrong," LeAnna says. "It has the comfort of a birthing center, without the risk."
"It felt comforting to have a birth plan that says what we want under ideal circumstances – and knowing there's a professional team with alternatives available if circumstances change," Thomas says.
"It's good to have the flexibility that if things go wrong, you can trust your providers and know they've got the resources you need – and not let it stress you out," LeAnna adds.
Their advice for first-time parents?  "Every hospital is different. You have to choose what fits best with what you want for your delivery and birth experience.
"For us, the Birth Center definitely fit very well," LeAnna says. "I'm very happy with our decision."
Categories