Miranda and Derek Dulek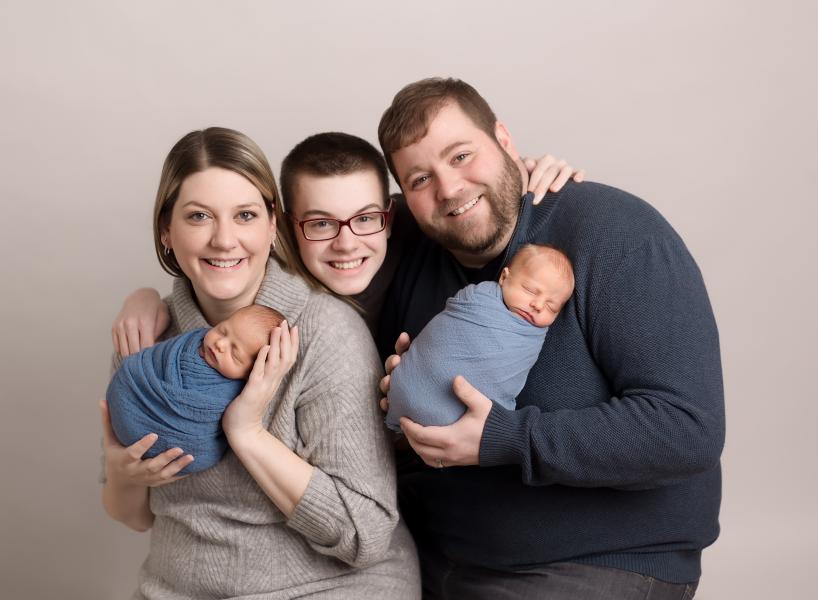 Miranda and Derek Dulek had twins . . . and one big team to welcome them.
It was at her first ultrasound that Miranda found out she was pregnant with twins.
"It was a shock!" Miranda laughs. "My first pregnancy with my son I didn't even need to see an obstetrician, just my primary care provider. He was born on his due date, no complications – just as simple as it could be."
That was 14 years ago. Now, Miranda's pregnancy qualified as high-risk due to twins, and her age.
Miranda's primary care provider at Allina sent her to NH+C's Women's Health Center. "I didn't look at other options. I trust my primary provider, and she recommended NH+C." Miranda saw all the OBs of the Women's Health Center throughout her prenatal appointments.
Then at nearly 37 weeks, an ultrasound showed that Baby A wasn't growing as much as Baby B. "They posed it this way: 'It's better to get the babies out now, so they can both grow better on the outside,'" Miranda says. "So we decided to induce that day."
Miranda and Derek hurried home to prepare their son Jaidyn and grab their bags. They were greeted at the Birth Center by "wonderful nurses," with OBs Nicole Dohm-Palmer, MD and Shannon Lau, MD on call. "It was a well-oiled machine," Miranda says. "Everyone knew what they were doing."
Miranda labored in a "beautiful, huge birthing room," then moved into the Birth Center's new surgical suite, a dedicated space for Cesarean sections . . . and twins. It felt reassuring to be in the well-appointed surgical suite: "It's big enough for the whole team to care for mom and two babies, and they can be ready for anything that's needed," Miranda says.
An ultrasound showed that Baby B was breech. Baby A was born first after 10 minutes of pushing – then a second ultrasound showed Baby B had flipped on his own. He was born 11 minutes later.
Brothers Harrison James and Lincoln Neil were healthy, though premature. One had a bit of fluid in his lungs – "nothing bad or scary, no need for extra intervention," Miranda says. The babies stayed with Miranda and Derek in their post-partum room. Their family doctor from Allina cared for the babies in the Birth Center. Cooperation between NH+C and Miranda's Allina provider gave the family seamless care.
"I really appreciated having my doctor there, to have that flexibility so I could have our own doctor as part of the babies' care from Day One," Miranda says.
She gives Dr. Dohm-Palmer and Dr. Lau high marks, too. "I just love Dr. Dohm-Palmer. She really knows what she's doing. Dr. Lau checked in on us over the weekend, and is so kind, knowledgeable and a pleasure to talk to," Miranda says. "And the Birth Center nurses were so kind and helpful. After the babies were born, all the staff who were part of the birth came back to congratulate us."
"It was such a good experience, especially because so many things could have gone wrong . . . and didn't."
With twins, "you spend all those months wondering what it will be like, with this possible high-risk pregnancy," Miranda says. In the end, "there was no reason to worry. Everyone was so good at their jobs, and there was so much positivity surrounding us. You could just feel that energy."
Miranda met with certified lactation consultant Jennifer Kleine, BSN, IBCLC before heading home. "Nursing twins is a whole new ballgame," she laughs. "It's so time-consuming with one baby, and if you didn't have them both on the same schedule, you'd just be feeding a baby all day long." Miranda worked on latching and tandem feeding with the help of Jennifer and the Birth Center nurses.
"It's like being a new mom all over again," she says. "It's been a great experience."
Her advice for other moms of multiples? "It's super scary at first to find out you're having twins. It feels like you can't possibly know what to do and it will be overwhelming. But it is so worth it. And this team – they know what they're doing."