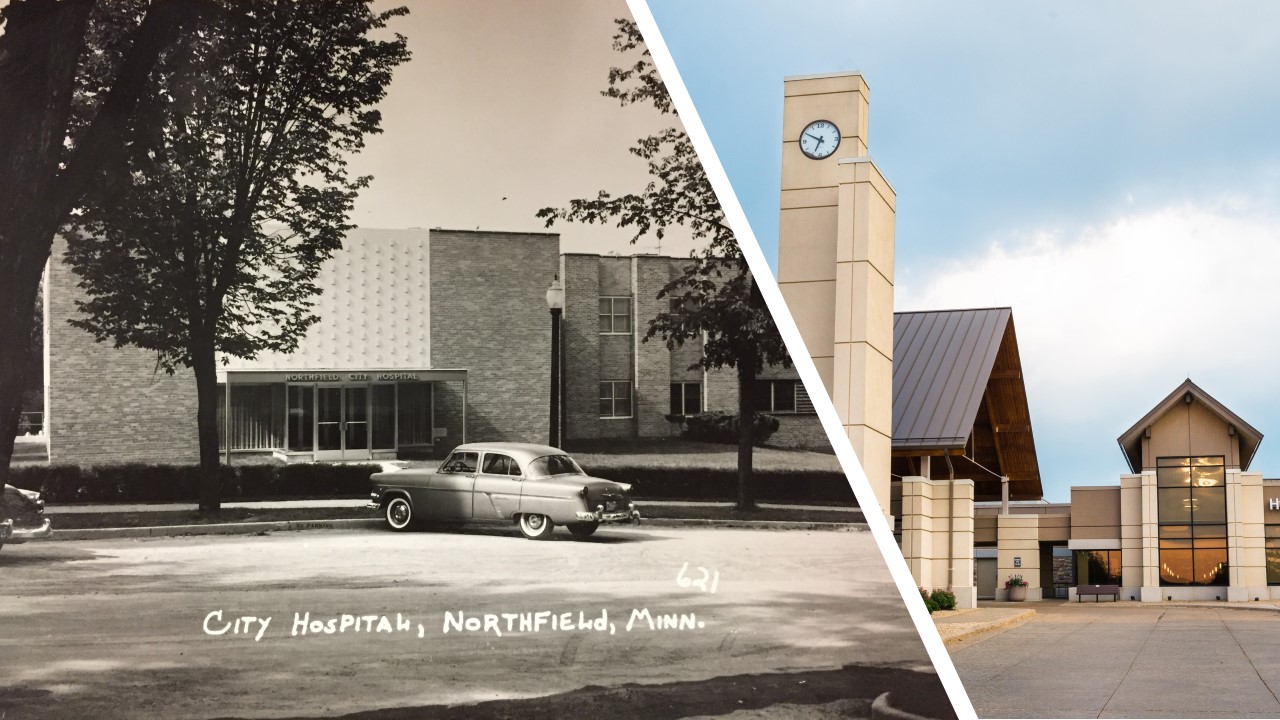 In May, we celebrate the 20th anniversary of Northfield Hospital – the current hospital on North Avenue in Dakota County, built in 1983.
We celebrate our 113th anniversary, too: Since 1910, Northfield Hospital has been caring for our community. It's been quite a ride – especially the last three years.
We're proud of our past, a tradition of exceptional care. We're optimistic for the future too, as we grow across the region, add and expand services, and care for an ever-increasing number of patients across the communities we serve.
Thank you for trusting us with your care.
Time to Begin Again
After 64 years in its neighborhood home on West Second Street, Northfield Hospital needed more. The land-locked hospital that was built in 1939 could no longer accommodate emerging trends in healthcare: more outpatient services, a growing surgical practice, advanced technology.
Leaders envisioned an integrated medical campus on a 60-acre site. The hospital could consolidate services in one location, expand primary and specialty care, have space and flexibility to adapt to future needs. St. Olaf College offered in 1996 to lease in virtual perpetuity a 60-acre site north of its campus. Hospital CEO Ken Bank said: "It is now time to begin again."
The new hospital would be built on the northwest edge of Northfield. Planners took advantage of rolling fields to provide calm and healing views of nature. The distinctive clock tower would become a reference point for visitors. At every turn, planners designed the facility with the patient experience in mind.
A groundbreaking ceremony was scheduled for September 13, 2001 to mark the investment in 21st century medicine, and commitment to the future of the community. And then the country was blindsided by 9/11, shaking the nation to its core. Hospital leaders considered postponing the groundbreaking but chose to go forward: A new hospital became a symbol of hope and healing.
In April 2003, the hospital staff symbolically walked from the hospital on West Second Street to the new hospital on North Avenue. It was only a few miles, but it was a path that ushered in an era of opportunity for Northfield Hospital to extend its unique combination of state-of-the-art care in a tranquil environment that's always welcoming: Healthcare that feels like home.
By May 2003, the move was complete. Babies were being born; patients were being treated; advanced diagnostics were employed. The new Northfield Hospital began earning its reputation as a regional medical destination.
Next, NH+C built a network of clinics to bring primary and specialty care, plus rehabilitation services, to communities across the region: Lonsdale, Farmington, Lakeville, Faribault, Kenyon.
Then, NH+C expanded and enhanced services on its hospital campus, including:
Women's Health Center (2005)
Breast Care Center (2010)
Sleep Center (2011)
Cancer Care & Infusion Center (2012)
Surgery Center (2015)
Wound Healing Center (2021)
Birth Center expansion (2020-21)
Services also grew with new locations across the region:
Urgent Care Lakeville (2013)
Kenyon Clinic (2021)
Urgent Care Northfield (2022)
Whatever shape the future takes, NH+C's longstanding spirit of compassionate care will continue to guide the mission, the vision, and our dedication to caring for our communities.