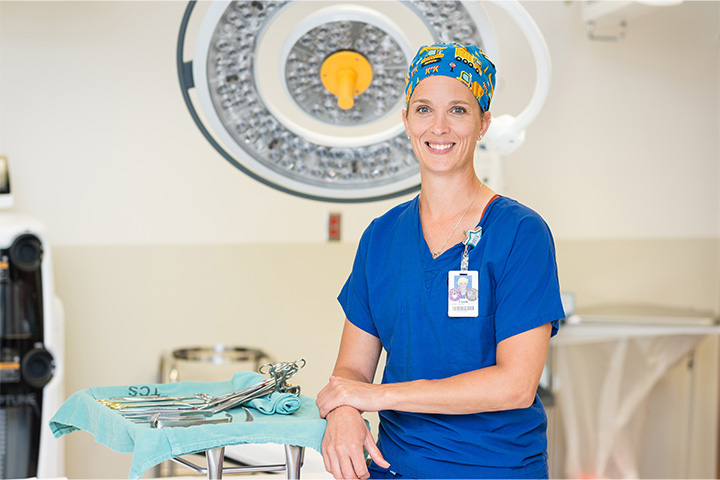 "What Inspired Me" showcases NH+C staff and what inspired them to choose their career. Each profile tells the personal story behind the professional expertise.
Cassandra Weber, CST is a Certified Surgical Technologist in NH+C's Surgery Center. 
I'm a surgical technologist: I set up and maintain the sterile field in the operating room. I help doctors during surgery, passing instruments and retracting them – whatever the doctors need to perform the surgery. I may run a camera light cord and a scope for laparoscopic cases, for example.  
I never thought I'd be in medicine. My mom was a nurse and always told me to become a nurse – she loved her job and thought it was a great profession.  
I got a degree in mathematics and was working when her voice popped into my head: "Be a nurse." So, I went back to school. An anatomy professor asked me what I wanted to do, and gave me a few avenues to consider. I was invited to shadow a few surgeries – a spinal cervical fusion, a thyroidectomy, knee replacements. Watching and listening to the surgeon was so fascinating to me. I realized I wanted to be on that side of the drape – the sterile field, the operative site. 
The blue drape that covers the patient divides the sterile area, where everyone is gloved and gowned, and everything is sterilized – from the areas where anesthesiologists and nurses give medicine, monitor the patient, and document each step of the surgery.  
The orderly, organized atmosphere of the O/R is similar to mathematics: Everything has its place, and the effectiveness and fluidity of surgery comes from knowing what is necessary, step by step, to get through the case. I like the minute details, and the absolute attention to detail. 
I like the mechanics of surgery. My work is focused on the equipment. I really like orthopedics – the carpentry of surgery, with jigs and bits and saws and drills. We're assembling all these pieces to create a template for a joint implant to fit specifically into this patient's body. It's like putting a puzzle together.  
And I'm always listening for what's needed. It's about attention to detail, and also paying attention to what the doctor and physician assistant are saying to each other, so I can be ready three steps ahead of them for what they'll need next. My job is to be ready for their next steps to keep the case going. I listen for what's happening now, and what's going to happen next. Sometimes I feel like an octopus, handling so many tools at once.  
I'm there the entire time of the surgery. The longest surgery I've even been in was a hernia repair that required extra work to close the abdominal wall. It was eight hours.  
I usually have 2-4 surgeries on a scheduled day, depending on the specialty. We're also on call for emergency surgeries. The most common is cesarean sections. Little miracles every day! Appendectomies, laparoscopic gall bladder surgery, hip fractures – these are the emergencies we see most frequently.  
My advice for people considering career options: Shadow as much as you can, and ask questions. We're behind locked doors, and it's hard to know what we do unless you get a chance to see it. If my professor hadn't encouraged me to check this out, I wouldn't have known this was a career option. 
Learn about the Surgery Center.