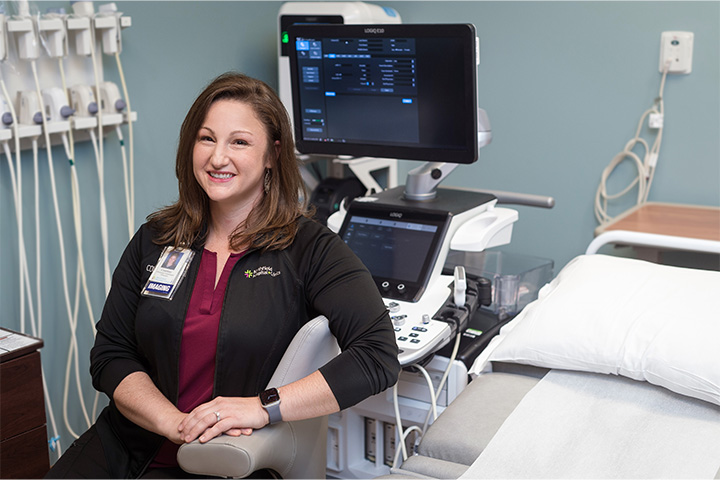 "What Inspired Me" showcases NH+C staff and what inspired them to choose their career. Each profile tells the personal story behind the professional expertise.
Courtney Krautkremer RDMS, RVT is a sonographer in NH+C's Diagnostic Imaging department. 
My dad had been sick for months with no diagnosis, until imaging technology finally discovered the cause of his illness: cancer. And doctors continued to use imaging to help monitor his cancer during treatment. 
That's what inspired me to go into healthcare. I specifically chose ultrasound because I wanted to give personalized hands-on care. During an ultrasound, I maneuver the transducer to look at areas of the body from multiple angles, which not all imaging scans can do. Ultrasound is often paired with other imaging such as x-ray, CT, MRI and mammogram to help with diagnosis and patient care. With ultrasound, I can get a deeper view and more perspective to help the provider with diagnoses and give patients the highest quality of care. 
I have to know human anatomy to evaluate what I'm seeing at every step: If I find something abnormal, I have to know how to get an image of it, where to look next, and how it fits into the puzzle of the human body. I want to do everything I can to get an answer. 
Plus, the physical touch of ultrasound gives me a chance to soothe patients while they're having a test that might make them uneasy. I can smile and talk with patients, and that makes it a little bit lighter. I can explain not just what we're doing but why we're doing it this way, so it doesn't feel like a scary experience.   
And it's sheer joy to watch the faces of parents and listen to them giggle as they see their baby for the first time.     
Imaging is not often recognized by the general public, but it's an important part of someone's care. We work as part of the team alongside doctors, nurses and other medical staff, and my ultrasound is my contribution to solving the diagnostic puzzle and care for each patient. That's why I always do what I can to advocate for my patients, and to be there for them in any way I can.   
I appreciate the medical team that took great care of my dad, and he is forever in my heart. His inspiration gave me purpose, and sharing his experience has allowed me to truly empathize with patients so they don't feel alone.  
Whatever direction your journey takes you, I will be with you. 
Learn about Diagnostic Imaging.