Peggy Prowe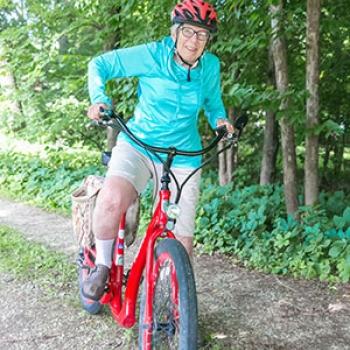 Peggy Prowe likes to be prepared.
Whether it's a bike trek, a trip overseas, or surgery, Peggy knows the value of planning ahead.
Arthritis in Peggy's joints kept getting more painful until it became too hard to ride her beloved bike – "my criterion for living," she says. When cortisone shots no longer managed the pain, Peggy chose total joint replacement.
She started with her ankle. "It's a relatively new surgery and Northfield Hospital doesn't offer it yet, so I had to go somewhere else," Peggy says. "I met with the doctor and had an x-ray, then walked in on the morning and had it done."
Peggy got some instructions to care for herself after surgery. For two weeks, she kept her ankle immobilized while recuperating at her son's home, then recovered with physical therapy at Rehabilitation Services in Northfield.
Four months later, she had her knee replaced at Northfield Hospital. The experience was dramatically different.
"I was impressed with the preparation the hospital gave me beforehand," Peggy says. "I'm very appreciative of how thorough it all was with the hospital staff."
After Peggy and her orthopedic surgeon made the plan, a nurse reviewed all of the surgery paperwork with Peggy. A hospital pharmacist reviewed Peggy's current medications with her, and the medications she'd need after surgery. A physical therapist talked with Peggy about her PT plan for the new joint, starting the same day as surgery. An occupational therapist helped Peggy prepare to care for herself at home, where she lives alone. "The preparation was dramatically more reassuring, with complete information" – and getting it well before surgery was key, Peggy says.
Peggy spent 10 days for post-operative care in the Long Term Care Center. "They reassured me that I would be cared for, that I didn't have to line up my own home care after surgery," she says. "I was hoping to be in the Long Term Care Center. They provided great physical therapy morning and afternoon, which was critical to the success of the joint replacement." Two therapists kept Peggy's recovery on track; "one was good cop, the other was bad cop," Peggy laughs. "They worked together professionally toward the same goal."
Once home, Peggy worked with physical therapist Ann Wieber-Young, PT, ATC "who's been taking care of one joint or another for me for eight years now," Peggy says.
"Peggy was very diligent with her exercising and moving, which allowed her to be back to biking as soon as she was," Wieber-Young says.
Within three months, Peggy was back on her bike for an annual ride with friends on the Root River Trail – an extra-special milestone this time.