Scott Sevcik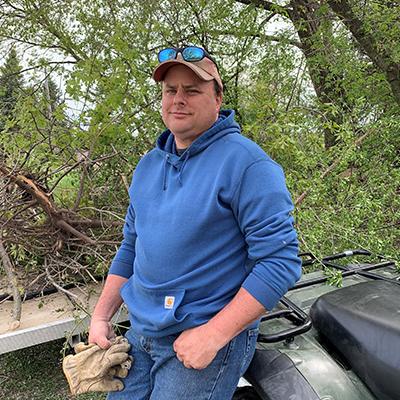 Scott Sevcik had a thorny problem. A trip to the clinic solved it.
Scott was clearing brush out of the tree line at his Northfield home. A thorn bush tore through his leather glove and into his hand. His wife Lisa removed what she could with tweezers. After a long night of pain and swelling in his hand, Scott had a hard time opening his fingers. He decided he needed medical help.
Scott didn't want his usual clinic. "They wouldn't have the equipment to handle it, and I didn't want to make multiple trips," he explains. "I wanted to go to NH+C. My wife and daughters all go to the clinic there, so I wanted to try that."
Scott called the Northfield Clinic at 7:30 am and got an 8:00 am appointment. "That was awesome," he says.
Clinic staff met him at the door. "There were a few people there and they asked me to do social distancing," Scott says. "They helped me tie my face mask. That was so nice."
Like all patients, Scott was screened as he entered the clinic, including his temperature. "I'm all in favor of temp checks and masks," he says. "Those are important precautions. It was reassuring, not scary."
Dr. David McIntyre found pieces of the thorn lodged in Scott's hand. He numbed it and removed the debris. Scott left the clinic with antibiotics and instructions on how to care for his hand at home. "The service was top-notch," Scott says.
"I wasn't sure they'd take me because of COVID-19," Scott adds. "I was hesitant, but I called because my hand really hurt. I was so glad they're taking patients."
Scott's advice? "Don't be afraid to make the call. The clinic is open."    
Categories