Stephanie McCarren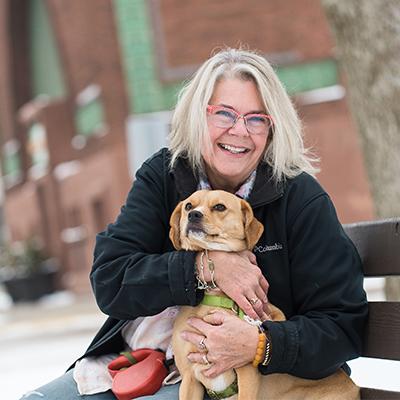 Stephanie McCarren's smile comes easy now, thanks to new joints in her legs.
Stephanie was severely injured in a 1973 car accident that crushed her legs. Later, she developed severe arthritis from her injuries. For years, she pushed through the pain.
"I thought the more I walked and the more I moved, the better it would get," she recalls. "I thought I could overcome it."
While walking for exercise one day, "someone stopped and asked if I needed help," Stephanie says. "I thought, 'How bad do I look?'"
When she walked into Dr. Clinton Muench's office for the first time, "I was literally hunched over" with pain. Dr. Muench eventually replaced both of Stephanie's hips, and both knees. Because the bones in her right leg healed crooked from the car accident, Dr. Muench used 3D printing to create an exact replica of Stephanie's knee to guide attachment of the new joint to her specific bone structure. That was the easiest of Stephanie's joint surgeries, with the best recovery.
"When I walk now, my gait is perfect. I have no pain," Stephanie says. "I still can't believe it."
Throughout her experience with hospital staff and the ortho team – especially Deb McGuire Lang, PA-C – "I felt safe and comfortable, and felt like I could just get 'er done," Stephanie recalls. "You expect great expertise, and above and beyond that, they care for me like a person."
Dr. Muench "honestly cared about my overall health and wellness. Nobody had ever done that for me before. I was extremely overweight, and he listened and cared and did everything he possibly could to get me going in the right direction," she says.
"I feel like Dr. Muench gave me a second chance at life, because my life is so different now than it was before."
Her advice for others living with pain? "You really need to pay attention to yourself and your pain and take better care of yourself," Stephanie says. "I was never a priority for myself, and I think a lot of women are like that. When you have a job to do, a family to raise, you just keep doing what you have to do, and you suffer through it." Instead, women should take the best care of themselves as they can right  now, Stephanie says.
"I'm the happiest I've ever been, and I know it's because of my health."
Categories