Sydney Mickelson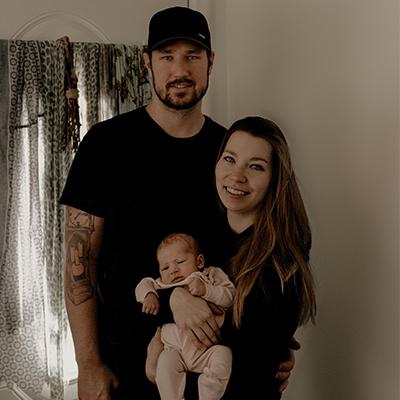 Sydney Mickelson went the distance for her baby.
Sydney had a birth plan for her first baby: Deliver at NH+C's Birth Center with Dr. Kyle Hoffert, her family medicine physician from Allina.
The hospital is an hour's drive from her home in New Richland – worth it, says Sydney: "I've gone to Northfield Hospital all my life. Other places just don't compare. I love the collaborative environment there."
Then, in her last trimester, Sydney developed cholestasis of pregnancy – a buildup of bile in the liver that can be dangerous for the baby. To protect the baby, doctors may induce labor before the due date.  
Dr. Hoffert scheduled Sydney to be induced at just over 36 weeks. The Birth Center was ready, with a spacious new labor & delivery room and a range of natural birth options.
"The room was really big, like a studio apartment. That was good because we ended up doing all the Spinning Babies moves you could think of to get her in position – lunges, squats, everything," Sydney says.
Nurse Amanda Edwards, RN used Spinning Babies® techniques between Sydney's contractions – to shift ("spin") the baby in the womb into the best position for delivery. "Amanda was awesome – super quick, with explanations that made it work for me."
Natural childbirth aids were set up "almost like stations: While I was working on one thing, they were setting up and explaining the next thing, monitoring the baby the whole time," Sydney says. "I felt like I was focusing on doing something rather than just feeling the pain."
Sydney pushed for over five hours. "It became pretty real at one point: She had to come out or I'd have to have a c-section," Sydney says. Dr. Hoffert called in OB/GYN Shannon Lau, MD for a second opinion.
Dr. Lau found that Sydney had progressed nicely in her labor, with her baby in good position, and that a normal vaginal birth was likely. Sydney gave birth to Lita, a healthy baby girl, attended by Dr. Hoffert. 
"I really appreciated that they collaborated, that Dr. Hoffert brought in a second opinion," Sydney says. "It made me feel ten times better about the situation because having two of them agree made me feel confident in the decision."
Sydney had planned for natural birth without medication. "Part of me knew things wouldn't go exactly how I wanted," she says, "but I pretty much was able to do what I wanted in the end. It was a little scary at first, but they did a good job making it not scary."
Lita spent her first hour nestled on Sydney's chest, with dad Justin nearby: "They set aside time for us to just be there as a family."
Lita was treated for jaundice for a few days before going home.
"The nurses gave us confidence that we could care for her at home, even though neither of us had ever even changed a diaper before," Sydney laughs. The nurses teach a checklist of skills: diaper changing, breastfeeding or bottle feeding, bathing, checking baby's temperature. "I didn't want to try to learn those from Google," Sydney says. "They'd show us, then supervise us as we did it. We went home really confident."
COVID precautions gave Sydney confidence, too. "We definitely felt safe with everyone wearing masks. We felt safe the whole time we were there."
Sydney's advice to other new moms: "Be open to whatever happens. I didn't expect to be doing all these crazy gymnastics moves, but they helped. When you're in good hands, it's easier to go along with what's happening.
"Being open is just the best you can do to have the best experience."
Wherever the road takes you.
Categories