Teri Knight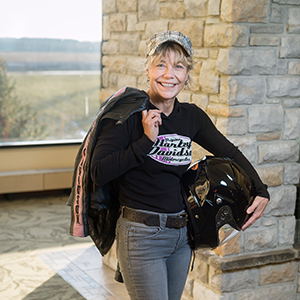 Teri Knight is back in top gear.
Teri is happiest outside, and in motion – gardening, hiking, riding her Harley.
But hip pain was curbing Teri's active life. She walked crooked. She felt unstable on her feet, and especially on her bike. "I didn't ride at all last year and I love to ride," Teri says. Even strolling around Bridge Square hurt. Worst of all, gardening felt like a chore.
Teri knew it was arthritis. A cortisone shot helped for a few months, but not enough.
Orthopedic surgeon Clint Muench, MD ordered x-rays. Turns out Teri had significantly more arthritis than suspected, plus two bone spurs on her hip.
"Surgery was an easy decision," Teri says. She chose anterior joint replacement – incision in the front of the body – because it's less invasive and recovery is easier. "My mom had hip surgery decades ago and couldn't walk for three months. That was unacceptable to me." Plus, the joint design "looked really sturdy" with the rod inserting far into the femur. "This joint will last 25 years or more, so I'm good," Teri smiles.
Choosing Dr. Muench was an easy decision, too. "I like his manner: He's forthright and helpful, encouraging and realistic," Teri says. "I wanted to know what to expect, to go into it knowing the challenges and how we would work through them" for recovery and physical therapy. Plus, "other patients I talked with were thrilled with his work."
Teri's experience at Northfield Hospital was "fabulous, all the way around. Everyone treated me so kindly and were so encouraging. I can't say enough how wonderful all the staff was."
Teri stayed one night in the hospital after surgery, walking well and even climbing a step. "They called me a rock star," she laughs.
Once home, Teri's physical therapist Katie Olson, DPT tailored Teri's PT regimen to her fitness level and range of motion. "She was very good at telling when I was on the brink of too much," Teri recalls. "She encouraged me to push it just enough and then rest a bit, to know my limitations." Katie set up an app for home exercises on Teri's phone, adjusting the workout as Teri progressed.
Teri's back in action, walking the greenhouses at Gerten's, snowshoeing – and planning her garden, summer hikes, and motorcycle adventures.
"I'm looking forward to getting back out there, feeling stable," she says. "When you start to get a little older, you get a little more concerned about falling. This makes me a lot more confident."
Teri's advice? "You know your body. If you feel unstable or have pain, if you feel or look to others like you're walking crooked – get checked out. An x-ray can give you a baseline, and then you can go from there."
And go far.
Categories