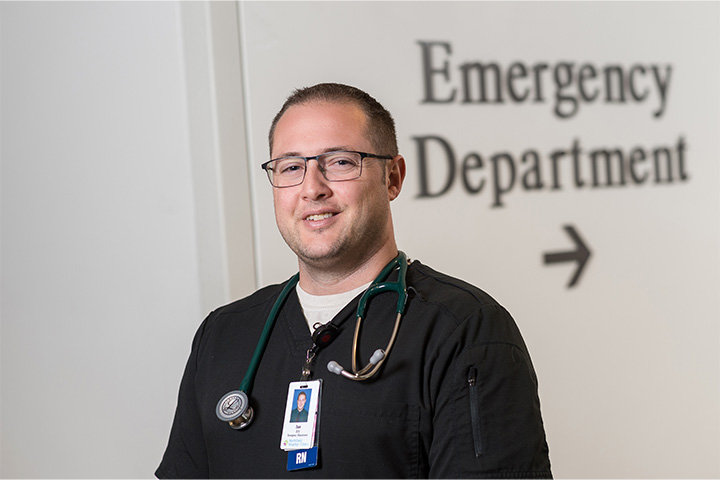 "What Inspired Me" showcases NH+C staff and what inspired them to choose their career. Each profile tells the personal story behind the professional expertise.
Ian English, RN is a Registered Nurse in the Emergency Department.  
When I was in high school, I was set on being a police officer. I was in Police Explorers for years, and went to college in Mankato for law enforcement. I joined the Army during college to round out my experience. I became a military police officer in the Army Reserves, deployed to Guantanamo Bay in Cuba. 
When I came back to finish college, I got a job doing hospital security at Mayo Clinic in Mankato; I figured that would be good experience to be a police officer. I worked with a lot of nurses and doctors and medical staff. I felt like I was able to help people, make a difference in people's care, and keep people safe. That's why I wanted to be a police officer: To help people, and to keep people safe. 
I finished my degree – a double major in law enforcement and political science – but realized after my experience in the Army and in the hospital that I didn't want to be a police officer after all. 
I liked working in the hospital environment. I was public safety supervisor at Northfield Hospital for about a year and a half, and I loved working with the hospital staff, especially the ED staff. 
But I felt like I could do more to help people and keep people safe, be more involved as part of the team. So I went to nursing school, while still working full-time in public safety. 
Nursing involves more problem-solving. In nursing, you're working with every patient; in security, you're generally only involved with patients when there is some kind of safety risk. As a nurse, you can see directly that you're helping people, and they appreciate what you do for them. It's very rewarding to be able to feel like you're making a difference in someone's life. 
I chose to work in the ED because I like the pace, and I appreciate the mindset of the ED staff. It's a very direct communication environment, because things need to get done right away. In the ED, the staff are versatile and can roll with the punches. I fit well in that environment. I've been fortunate to have fantastic mentors in the ED who have helped me grow as a nurse over the past year and a half. 
My advice for young people thinking about their career options: Keep an open mind. Someone could look at my journey and say, "You spent five years in college and six years in the Army to become a cop, but you're not using that degree." Even so, that experience and education were not a waste. Those experiences helped shape my working style, my personality, and my work ethic; I believe that has made me a better person and a better nurse today.  
Be open to new experiences that make you look at people a little differently and bring you different friends and colleagues. 
Life is a journey; make the most of it. 
Learn about the Emergency Department.